League of Angels II ist dabei einen weiteren Meilenstein zu erreichen! Am 02. November 11:00 Uhr (EST) geht Server Nummer 1000 ans Netz. Genau wie für Server S200 und Nummer S500, hat der Spieler der nach am siebten Tag um 23:59 Uhr die höchste KS erreicht hat, und damit gleichzeitig auch den Titel Best Rookie tragen wird, das Privileg den Namen zu wählen.
Krieger anderer Server haben die Möglichkeit diese Begebenheit ebenfalls zu feiern! Im Zeitraum vom 02. bis zum 04. November wird es großartige Belohnungen im Event Bereich geben. Außerdem haben wir für alle Server die älter als 7 Tage sind Spezial Angebote Vorbereitet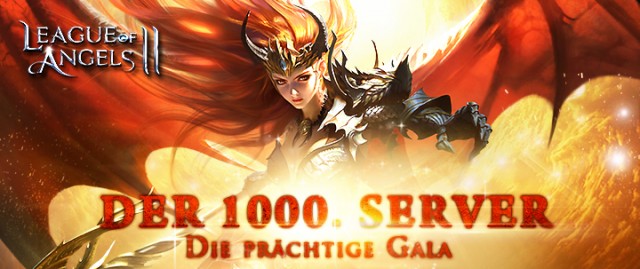 Zusätzlich wird es weitere Aktionen im Rahmen des Starts von Server Nummer 1000 im Forum und auf der Facebook Fan Page geben! Nimm daran teil und gewinne eine unmenge an Preisen! Tausende Spieler weltweit sind es bereits, werde jetzt auch du ein Teil von League of Angels II!