Using the Chat System in League of Angels is easy as pie; here is how you do it:
There are 4 chat channels in League of Angels: All, World, Guild, and Party
The all channel includes all other chat channels, on one screen.
The world channel is allows players to send messages to all other players on the server
The Guild channel lets players communicate with their fellow guild members, in privacy.
The Party channel lets members of a certain party communicate, without having to deal with the clutter of other channels.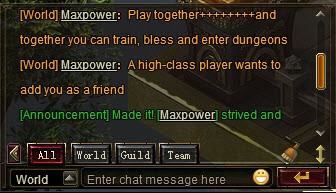 About GTArcade:
GTArcade is a leading developer and publisher of free online games. With its guiding principle "sharing simple joy," GTArcade has developed award winning MMORPG and strategy games for browser games and mobile platforms around the world. Visit www.GTArcade.com today and play all our games for free! Partake in the gaming experience of a lifetime!