Time: June 13th to July 14th
Server: All Servers
Description: During the Angel World Cup another Football World Cup event will be held. In this event players may place bets on their favorite 2014 World Cup football team. Bets may be placed from the June the 13th until the 14th of July.
Rewards: Angel Mikaela! And many more!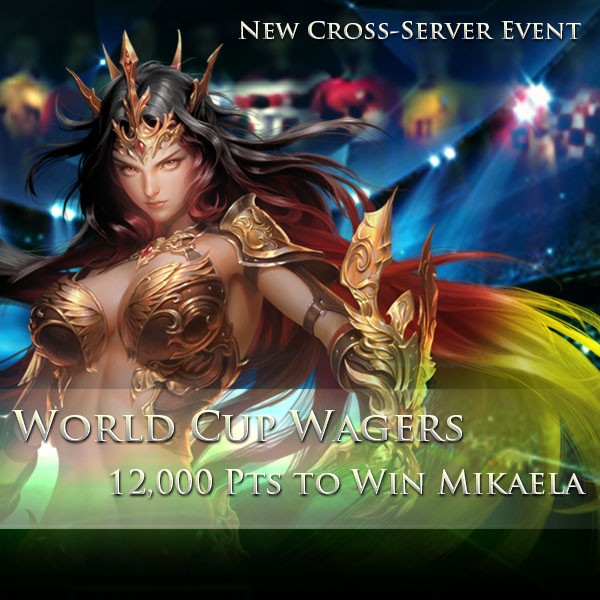 Attack Stats: MATK
Skill: Deals Magic DMG equal to (160% ATK +500) to all enemies.
Stats:
| | | | | | |
| --- | --- | --- | --- | --- | --- |
| MATK | Agility | Hit | CRIT | CRIT DMG | FIRE DMG |
| 720 | 190 | 36 | 36 | 28 | 50 |
Betting Rules and Betting Vouchers:
1. Players can place bets each day.
2. Players may choose to bet on three outcomes: Win, Draw, Or Loss.
3. Each time players bet they may use Betting Vouchers to place bets up to a given limit.
4. Correct and Incorrect bets will be rewarded with differing amounts of Chests and Points.
5. Chest and point rewards increase as more Betting Vouchers are used.
6. Rewards can be collected after players accumulate a certain amount of Points.
7. Players ranked highly on the Betting Rankings will be rewarded with great prizes.
8. Betting Vouchers can be obtained from using Gold or Vouchers. Players may also complete in-game Events to earn more Betting Vouchers.
9. Each correct bet will be rewarded with 1 Chest and 3 Points. Each incorrect bet will be rewarded with 1 Chest and 1 Point.
About GTArcade:
GTArcade is a leading developer and publisher of free online games. With its guiding principle "sharing simple joy," GTArcade has developed award winning MMORPG and strategy games for browser games and mobile platforms around the world. Visit www.GTArcade.com today and play all our games for free! Partake in the gaming experience of a lifetime!

The League of Angels Team