Starry Dream
What does a starry night looks like in your mind? In this land guarded by Angels, when it is in peace and prosperity, Angels once had a grand meeting in a starry night in summer, for it was predicted that peace would be broken very soon. All Angels were ready to fight the coming war, but no one would know how fierce and horrible the war will be. To save more magic resources for Angels and Heroes, they jointly made a wheel called Starry Dream in case the war will be much tougher than predicted. Now, it's time for the Starry Dream to appear!
Duration: Jan 8 to Jan 11(Server Time)
Server: S1 to S1195
Description: Let's continue to enjoy the new Starry Dream, which has been optimized. Firstly, we change the free lucky points from 10 to 20 per day, and the max vouchers used from 20 to 80; Secondly, we decrease the rate of getting negative stars, which means you can get rewards easily.
Choose a reward and spin the wheel of Starry Dream. Rewards will be granted when all 7 stars are lit.
Starry Dream consists of three parts, Fantasy Star, Reward List, and Point Rankings.
Bat Wings, Royal's Mark, Lvl.75 Fire Element Core, Khaos Core, Spiritsoul Totem Chest(Garnet), Grotto Heart, Sterling Moonbeam, Lvl. 9 Crit Damage Gem and more will appear in Reward List.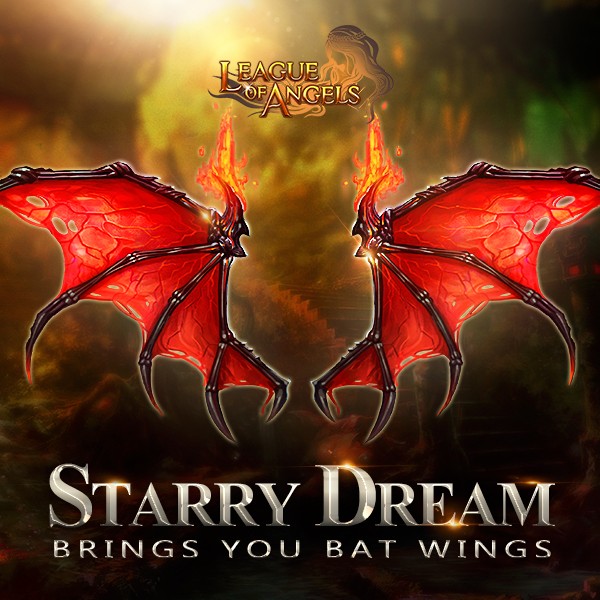 Fantasy Star
It's up to you to choose what rewards you would like to get! In this tab you can see five kinds of rewards on the left. These rewards are of different levels. The higher the level is, the better the reward is. There is a star wheel at the right. You need to consume Lucky Points to spin for stars. Please note that higher level reward requires more Lucky Points.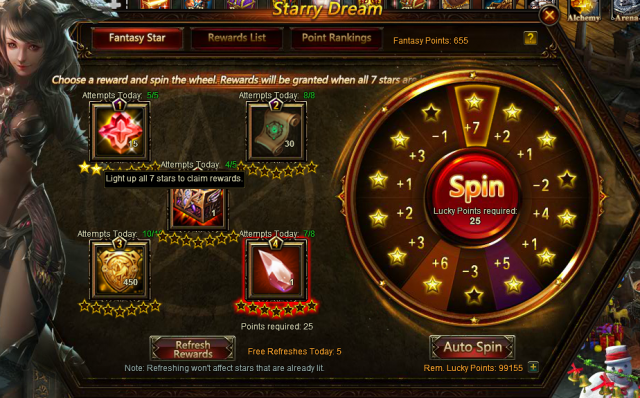 Every day players will have 20 free Lucky Points, and can use vouchers to buy 80 Lucky Points at most.
Reward List
Reward list helps you to know what are available in each reward level. You can click Refresh Rewards button to change the reward. Every player has 5 free attempts to refresh rewards. After using up all the free attempts, you can consume vouchers to get extra refresh attempts. Refreshing won't affect stars that are already lit.
This time Starry Dream brings you Bat Wings, Royal's Mark, Lvl.75 Fire Element Core, Khaos Core, Spiritsoul Totem Chest(Garnet), Grotto Heart, Sterling Moonbeam, Lvl. 9 Crit Damage Gem Angel Tears, Purgatory Soul, Element Scroll, Spring of Wisdom, Energy Vitamin and many other items.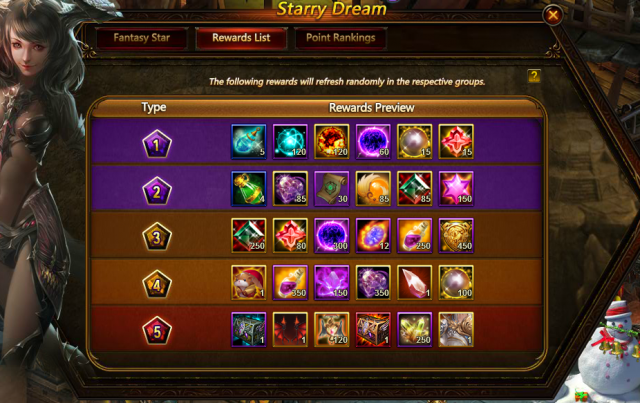 Point Ranking
We will have Yesterday's Ranking, Today's Ranking, and Overall Ranking. In each ranking, there are basic prizes and Adv. prizes.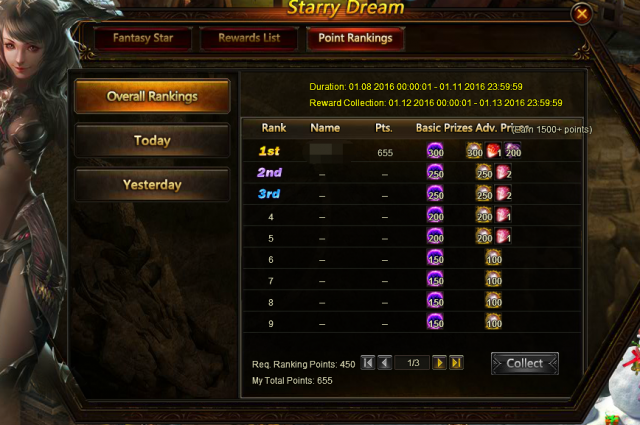 Daily Ranking
Ranking

Basic Prizes (

110 Points

)
Adv. Prizes (

300 points

)

1

Runestone x300

Khaos Core

x100

2~3

Runestone

x250

Khaos Core

x80

4~5

Runestone

x200

Khaos Core

x60

6~10

Runestone

x150

Khaos Core

x30

11~20

Runestone

x100

Khaos Core

x10
Overall Ranking
Ranking

Basic Prizes (

450 Points

)
Adv. Prizes (

1,500 Points

)

1

Soulstone x300

Blessed Stone x300, Purgatory Soul x200, and

Lvl.10 Agility Gem x1

2~3

Soulstone x250

Blessed Stone x250 and

Lvl.9 Agility Gem x2




4~5

Soulstone x200

Blessed Stone x200 and

Lvl.9 Agility Gem x1




6~10

Soulstone x150

Blessed Stone x100

Please note that the above content might be adjusted due to changes of the development plan. Final updates will be determined in game.
More exciting events are coming up through Jan 8 to Jan 11 (Server Time), check them out in the in-game Hot Events menu now!
About GTArcade:
GTArcade is a leading developer and publisher of free online games. With its guiding principle "sharing simple joy," GTArcade has developed award winning MMORPG and strategy games for browser games and mobile platforms around the world. Visit www.GTArcade.com today and play all our games for free! Partake in the gaming experience of a lifetime!
Read Related News:
LoA_Capsule Toys: New Angel Artifact and New Fusion Gems
LoA_Divine War Those Who Stand In the Way of Glory!
LoA_Group Buy: Play with Cute Golden Hamster!
LoA_Lucky Tree: Brings You Claudia Statue!
LoA_Win Arachnid Totem in Beach Treasure!
LoA_Wheel of Luck: More Resources Await You!