Valentine's Day
Duration: Feb 11 to Feb 14 (Server time)
Server: S1 to S1228
Description: This event is specially designed for Valentine's Day. It will bring you big surprise and offer a great chance to win Angels, Mounts, Clothing, tokens of the coming carnival and more.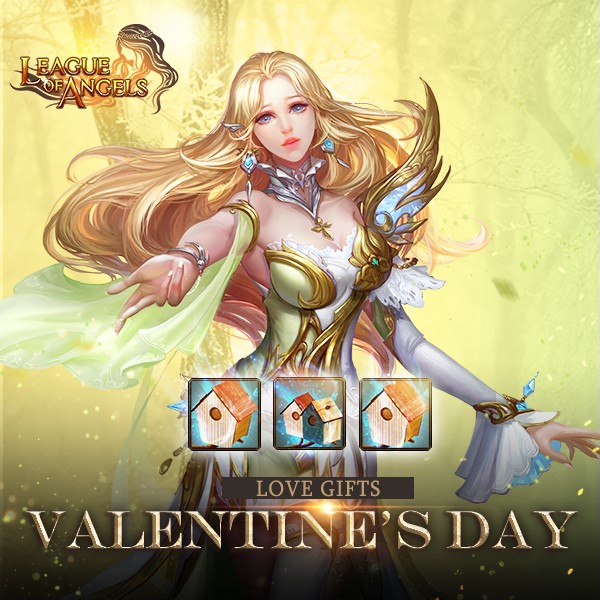 Valentine's Chocolate event consists of four parts, namely Valentine's Sprite, Angel Support Team, Chocolate Surprise, and Valentine's Shop.

Here is the icon of Valentine's Day.
Truly Committed
Dress up your Popstar Fahion and send Rainbow Candy to the angel of love and let her hide chocolate in certain scenes, you will receive 50 Truly Committed Upgrade EXP.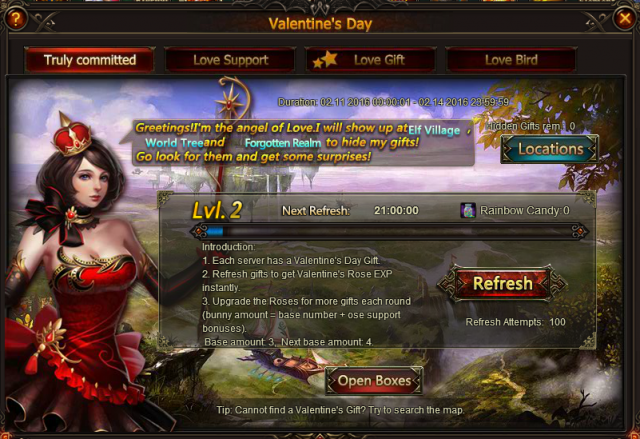 Rules:
1. Each server has one Valentine's Day Gift.
2. Refresh gifts to get Valentine's Rose EXP instantly.
3. Upgrade the roses for more gifts each round (bunny amount = base amount + ose Support team bonuses).
Click "Go!" button to find gifts in different places.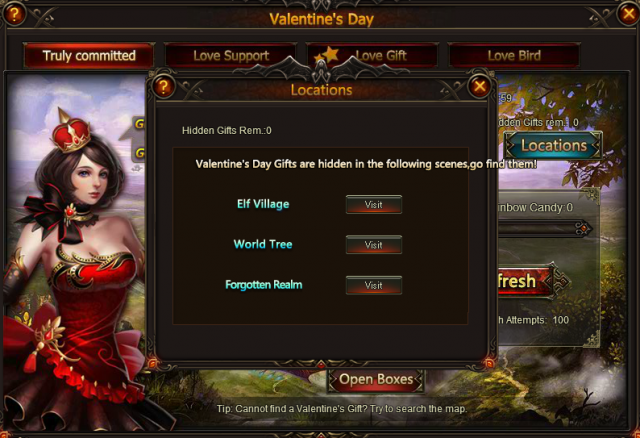 Gift Boxes can be opened to get Love-keys and other resources.
When you collect all the Gift Boxes in these three places, you can click "Refresh" button and boxes can be reset.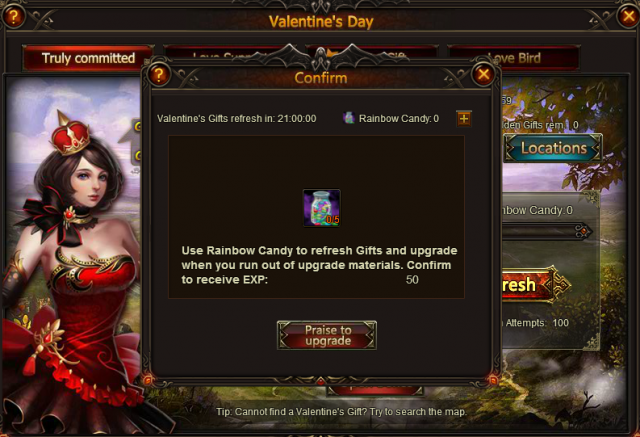 Every Refresh requires 5 Rainbow Candies. Each refresh can add 50 EXP.

The higher Truly Committed level is, the more Gift Boxes she will hide.
After you collect the boxes, please remember to open them by clicking "Open Boxes" button.
Love Support
Valentine's Day is coming! May you be blessed beyond imagining!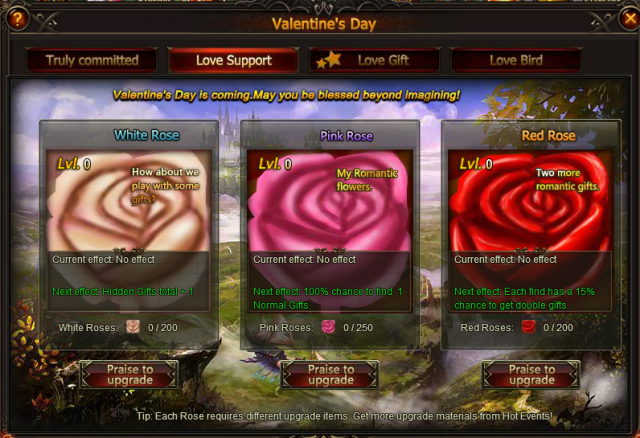 Love Gift
Openboxes to receive birds and resources. Birds can be used to exchange for rare items in the Valentine's Day Shop.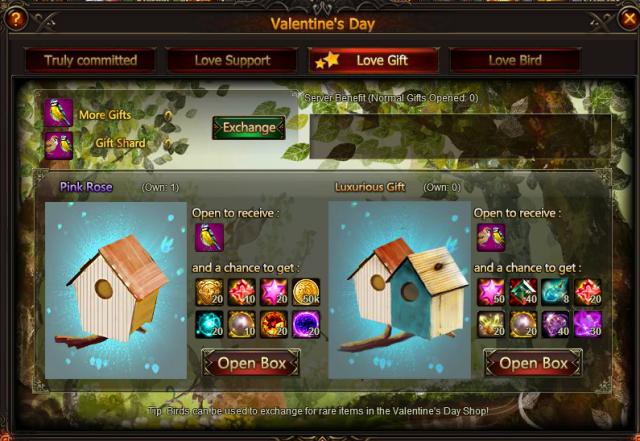 Love Bird
Check out what you want here.

Iron Love-key, Silver Love-key and Golden Love-key, which are exclusive keys for the coming carnival will be available! Leoric, Valentina, Eostre's Icon, Grace's Icon, Lover's Reunited, Cupid and more are waiting for you!

Exchange time: Feb 11 to Feb 14 (Server time)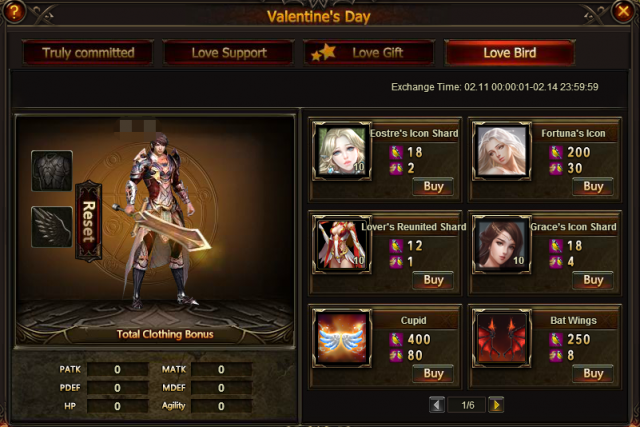 Please note that the above content might be adjusted due to changes of the development plan. Final updates will be determined in game.
More exciting events are coming up through Feb. 11 to Feb. 14 (Server time), check them out in the in-game Hot Events menu now!
About GTArcade:
GTArcade is a leading developer and publisher of free online games. With its guiding principle "sharing simple joy," GTArcade has developed award winning MMORPG and strategy games for browser games and mobile platforms around the world. Visit www.GTArcade.com today and play all our games for free! Partake in the gaming experience of a lifetime!
Read Related News:
LoA_Navigation King: Sail Away for More Fun!
LoA_Open Your Fortune Bags for Great Items
LoA_Beach Treasure:Gain 5-star Khaos Card at Lower Price
LoA_Capsule Toys:New Angel Kay Shows up
LoA_House of Cards:Time to Recruit Fearless Teammate
LoA_Angel's Quiz:Make Wings of Vengeance Yours