Another wave of Awakened Heroes is coming! This time Zweihander, Astral Child, Exorcist, and Bamboo Fighter have gained the power to awaken. Here we'd like to introduce their awakening skills respectively: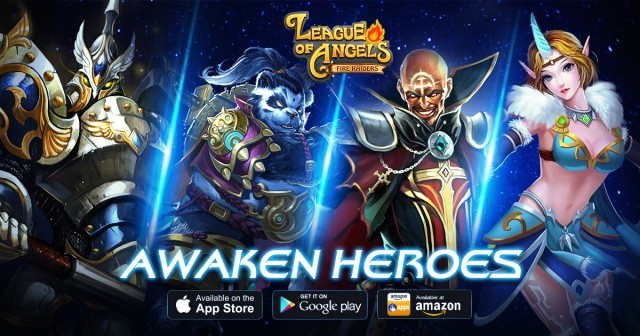 Zweihander
Ignore pain: At start of battle, damage reduction is increased significantly on self, this effect is reduced by 50% after 2 turns. Initial damage reduction 40%.
Astral Child
Blessed Elf: Greatly enhance Star Blessing, increase damage absorbed and damage done to enemies when Star Blessing shield breaks. Increase damage absorbed and damage when shield breaks by 20%.

Exorcist
Abolish Magic: When using active skills, there is a chance to remove all buffs on enemy unit. Chance increased to 60%.

Bamboo Fighter
Agile Brawler: When entering battle, increase Hit for the entire duration, also gains immunity to control effects for the first 2 turns. Increase Hit by 750.
Download free:
iOS: https://goo.gl/BMOjEp
Android: https://goo.gl/2jonKR
Amazon: http://goo.gl/SW4KsE
Additional Information:
Try League of Angels - Fire Raiders absolutely free by visiting the following link: http://angelmobile.gtarcade.com/
For regular updates, be sure to follow League of Angels on Facebook at: https://www.facebook.com/LeagueOfAngelsMobile
Forum: http://community.gtarcade.com/group/2073
Instagram: https://instagram.com/leagueofangels_fireraiders
GTArcade Game Platform: http://www.gtarcade.com
About GTArcade:
GTArcade is a leading developer and publisher of free
online games
. With its guiding principle "sharing simple joy," GTArcade has developed award winning MMORPG and strategy games for browser and mobile platforms around the world. Visit www.GTArcade.com today and play all our games for free! Partake in the gaming experience of a lifetime!