Capsule Toys
Duration: June 1 to June 4 (Server time)
Server: S1 to S1337

Description: Turn on the Vending Machine Button to get Capsule Toys which will earn you different kinds of items randomly.
What's NEW here:
1. Good news! More resources can be yours if you turn on the vending machine(since more rewards are added)!

2.Armament chests(which contain armaments of Epic and Legendary) will be available in Toy Shop. And the essential material to upgrade the armaments, Magic Mount Soul, will also be here for you!
3, If you didn't get Wand of Grace in Happy Sea event, you can't miss it out in Capsule Toys.
4.If you want to dress up a new costume, City Hunter Costume and Foolish Fashion can be a good choice!
5.Wanna gain more armulets? Don't worry. Heavenly Mirror(Epic) and Saint Bracelet(Epic) are newly added. Don't forget to gain Spirit Essence and Source of All Souls to upgrade your Amulets!

6.Also, Watermelon Jucie,Coconut Juice, Volleyballs, Coconut Juice and Life Buoyare waiting to decorate your Homestead. Get relaxed in your beautiful Homestead!

It's never too late to take Hoarfrost Blade, Skysong and Lizard to your party! Purgatory Wand, Lvl.11 Fusion Gem Chest, Lvl. 12 Cherubstone and more resources are waiting for you.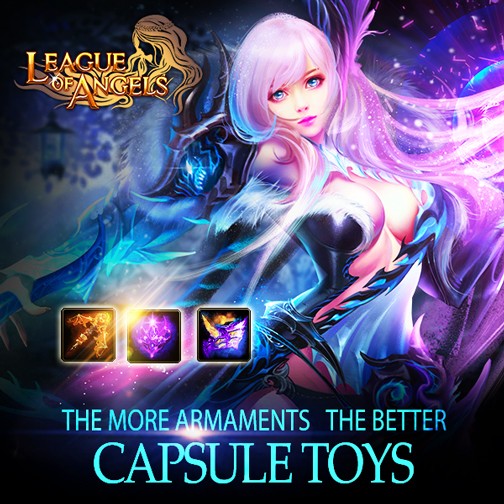 Capsule Toys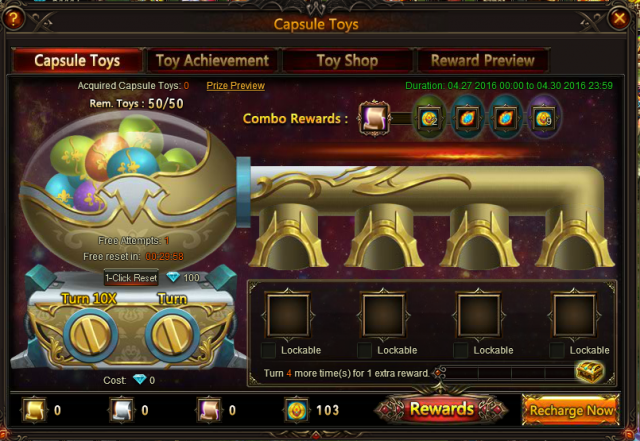 Rules:
1. During the event, all players get 1 free attempt daily while palyers with VIP4+ get 1 extra attempt daily.
2. The vending machine contains 50 Capsules each round. Reset the machine by clicking 1-Click Reset or simply waiting.
3. Combo requirements and rewards change after the machine resets.
4. Capsule prizes are shown in the panel while actual rewards will be placed in the reward inventory. Lock prizes for a fee to create combos.
5. For every 4 turns, players will receive a cumulative reward. Unlike combo rewards, cumulative rewards will be placed directly in the character inventory.
6. The cost for each turn is the sum of the button turning cost and the locking fees.
Tips:
1. Put your cursor on Prize Preview, you will see what's in the machine. After each reset, the items will be different.
2. Try to win more combo rewards, so that you can meet the requirement for Super Prize in Toy Shop.
Toy Shop
In Toy Shop, you can get wonderful items, Equipment, Angels, Mounts by using Gold Ticket, Silver Ticket, Bronze Ticket, and Capsule Coin.

This time you can more resources are available: (L2)Hades' Staff, (L2)Poseidon's Bow, Divine Emblem, Pandora's Mail, Heimdall's Helm, Magic Dust, Parchment, Lvl. 10 Crit Gem, Lvl. 10 Agility Gem, Khaos Core, Purgatory Soul, Dark soulstone, Energy Vitamin, Runestone, Synth Scroll, Gem Enhancement Stone, Aegis Shard. Don't miss them out!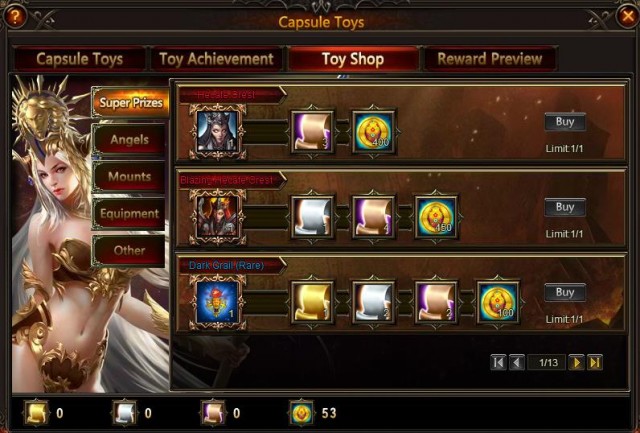 Please note that the above content(including the screenshots) might be adjusted due to changes of the development plan. Final updates will be determined in game.
More exciting events are coming up through June 1 to June 8 (Server time), check them out in the in-game Hot Events menu now!
About GTArcade:
GTArcade is a leading developer and publisher of free online games. With its guiding principle "sharing simple joy," GTArcade has developed award winning MMORPG and strategy games for browser games and mobile platforms around the world. Visit www.GTArcade.com today and play all our games for free! Partake in the gaming experience of a lifetime!