Lucky Tree
Duration: May 27 to May. 30 (Server time)
Server: S1 to S1333
Description:
It is said that there is an ancient tree in the world. People who bless it will get good luck. For hundreds of years people call it Lucky Tree. Many years ago, when the dark forces attacked this land, it disappeared from people's view. No one knows its location. Now Lucky Tree is discovered by angels. They bring it here, and hope to help you get luck and power!
What's New Here:

1.Various armament chests and Magic Mount Soul are available in Lucky Tree this time! (Tip: Seize the chance to get them since they are not permanent here.)
2.You still have a chance to get Demon Hecate and her exclusive amulet.

3.Dark Grail(Legendary), Eudaemon Ring(Legendary) and Spiritsoul Melody(Legendary) are all available this time! Don't miss the chance to gain Spirit Essence and Source of All Souls to increase your Amulets level and improve their quality. It's a great opportunity to make your heroes stronger!

4.Different kinds of Golden Gragonsoul Packs (the new item), Parchment, Magic Dust, Khaos 5-star Hero Chest, Khaos Angel Chest and Khaos Equip Chest will also be available.

5. God's Trial Blitz Card (which is useful in God's Trail) and Godsend (the essential material for Godsend system), are available now!

6. The newly added totem Heavenly Blade is available now!

7.Frigg, Mountain God, Tusky are waiting to join your party.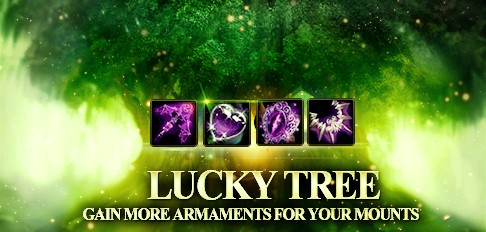 Lucky coins, diamonds and possibly many other items are hanging in tree. You can get these items and corresponding points by blessing Lucky Tree. Lucky coins can be used in lucky coin shop to buy more items. The points you accumulated can add to the points of Yggdrasil, namely the World Tree, which shows total points of the server. Each time Yggdrasil upgrades, all players in the server can collect rewards for once, and the items hanging in Lucky Tree will be upgraded too.
Rules:
- Players get 1 free attempts daily, VIP4 and above players get 1 more free attempt daily.
- Blessing the Lucky Tree will earn players personal points, Lucky Tree EXP and World Tree EXP.
- Players can only bless the Lucky Tree according to their levels. However, they may view the Lucky Tree loot for other level.
- The higher the Lucky Tree level is, the better the rewards are.
- Lucky coins gained from blessing can be used to exchange for rewards in the Lucky Coin Shop.
There are four tabs above the interface, namely Lucky Tree, Yggdrasil, Lucky Coin Shop and Personal Reward.
In the tab of Lucky Tree, you can bless the tree and get the items dropped from the tree. Bless attempt can be bought by diamonds. 1 Bless = 1 Lucky Tree EXP = 1 World Tree EXP. Please note that Lucky Tree level is based on your own Lucky Tree EXP, while World Tree Level is based on the total points gained by all players in this server. You can gain more Nectar in hot events or purchase by diamonds to gain extra Bless attempt.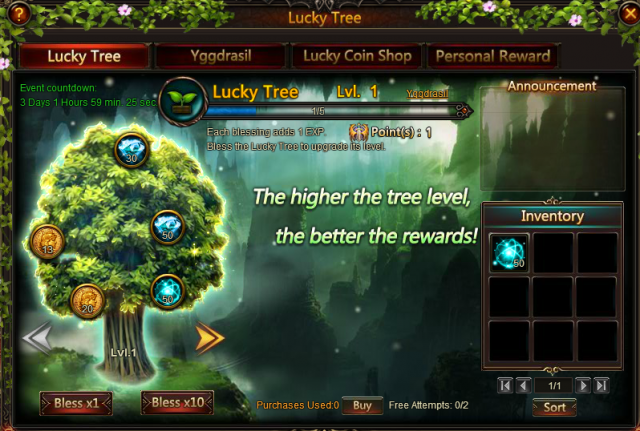 In the tab of Yggdrasil, you will see the status of World Tree EXP. When World Tree upgrades you can collect the rewards accordingly.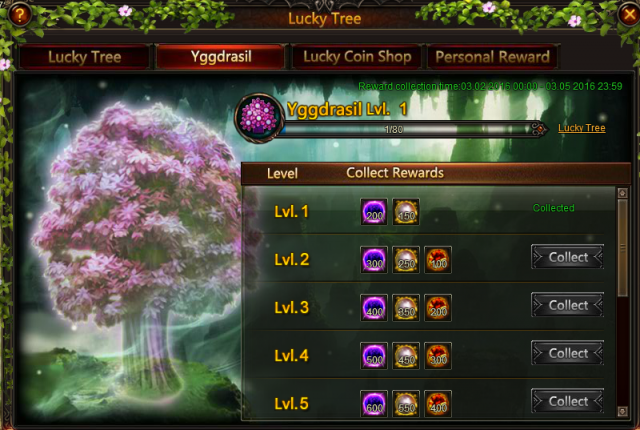 Here is World Tree reward list.
Level

Rewards

Lvl. 1

Armament Chest(Rare) x1,

Soulstone x200 and Blessed Stone x150

Lvl. 2

Armament Chest(Rare) x1,

Soulstone x300, Blessed Stone x250

and Runestone x100

Lvl. 3

Soulstone x400, Blessed Stone x350

, and Runestone x200

Lvl. 4

Soulstone x500, Blessed Stone x450,

and Runestone x300

Lvl. 5

Soulstone x600, Blessed Stone x550,

and Runestone x400

Lvl. 6

Soulstone x700, Blessed Stone x550,

and Runestone x500

Lvl. 7

Spring of Wisdom x800, Soulstone x900, Blessed Stone x500, and

Lvl. 7 Superior Gem Chest x1

Lvl. 8

Spring of Wisdom x1,000, Soulstone x1,000, Blessed Stone x700, and

Lvl. 7 Superior Gem Chest x2

Lvl. 9

Spring of Wisdom x1,200, Soulstone x1,500, Blessed Stone x900, and

Lvl. 8 Superior Gem Chest x1

Lvl. 10

Spring of Wisdom x1,500, Soulstone x2,000, Seraph's Stone x1,200,

and Lvl. 11 Cherubstone x1
Here comes the Lucky Coin Shop.
As you can see, in this shop there are many attractive items and all the items have been classified, which makes a better shopping experience.
Use your Lucky Coins to buy stunning Artifacts, Angels, Mounts, Gems, Sylphs, and many other resources.

This time Seraphim, Polly, Frigg Awakening Stone, Eostre's Awakening Stone, Amora, Amora Awakening Stone,Ysera;
Lunar Priestess Godless Wolf, Lannister, Nether Lord,Thunder Lord, Dark Valkyrie;

Azure Dragon, Lizard, Phoenix, Armored Rhino, Darkspirit Ram, Floe Hunter Soul;

Imperial Celebrity, Elven Camouflage, Raccoon, Lvl.9 PATK Gem, Lvl.8 HP Gem, Khaos Equip. Chest, Khaos Hero Chest, Purgatory Soul, Divine Emblem, Shield of Discord, Heaven's Melody and more are now available in Lucky Coin Shop.
Please note that the above content might be adjusted due to changes of the development plan. Final updates will be determined in game.
More exciting events are coming up through May 25 to June 2 (Server time), check them out in the in-game Hot Events menu now!