Grab yourself a pint of ale and get ready for the most thirst-quenching festival inMagerealm! Brewfest has come to the Realm!
The origins of Brewfest date back to ancient times. Many races claim to have started this festival of festivals, but one thing is for sure, Brewfest is a time when friends and foes alike exchange their weapons for filled mugs.
All the races of Magerealm enjoy a good brew and many strive to be the best brewmaster. Whether you fancy the ancient Ales of the Dwarves, the primitive concoctions of the Ogres, or even the scorching drinks of the Demons, Brewfest is the event for you!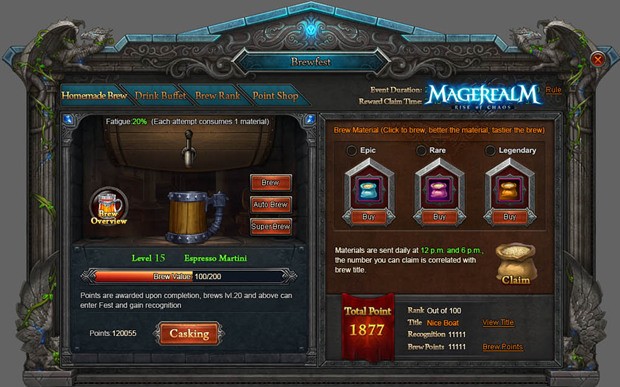 For this Brewfest, the players will be the brewers in charge of fueling the celebration! Various in-game events and activities will reward brewing ingredients, which can be used to craft all types of brew. Each created brew will be graded and earn points based a number of criteria like arouma, maturity, and color. Points can be exchanged for all kinds of wonderful rewards in the special Points shop. Points will also determine the Brewfest Cross-server rankings, and the best brewers in the Realm will earn some great rewards!
Enjoy Brewfest and remember to brew responsibly! Have you played Magerealm yet? Join one of the hottest browser games and experience all the action for free!
About GTArcade:
GTArcade is a leading developer and publisher of free online games. With its guiding principle "sharing simple joy," GTArcade has developed award winning MMORPG and strategy games for browser games and mobile platforms around the world. Visit www.GTArcade.com today and play all our games for free! Partake in the gaming experience of a lifetime!

More Related News:
Magerealm_The most rewarding event: Cross Server Brewfest!
Magerealm_Realm Giveback! Get FREE Wings!
Magerealm_New Hero: Elder Shaman