Come spend your Christmas holidays with Magerealm! We're going to hold a Grand Celebration with the debut of a NEW Angel, NEW Hero, NEW Christmas Fashion and Wings, and tons of game events!
***X'mas Madness Part Ⅰ***
The picture is for reference only, everything is subject to actual in-game event.
X'mas Wheel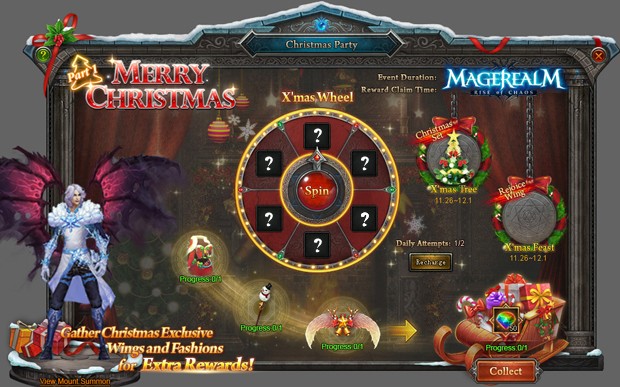 X'mas wheel of fortune is here, receive up to 600% in returns! Each player has 1 chance at the wheel per day, with an additional chance for those who recharge! Do not miss out on this rare opportunity.
X'mas Feast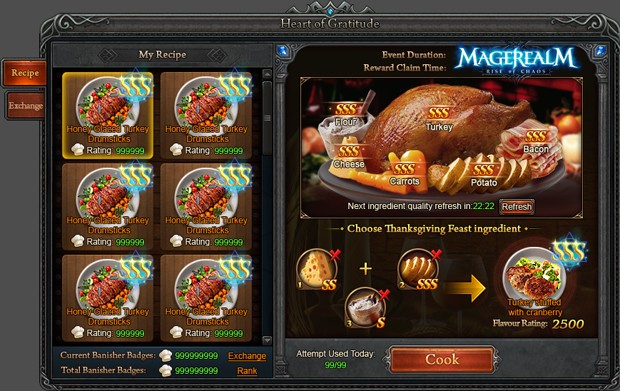 Cook X'mas Feast to win X'mas Wing! What is X'mas without a grand X'mas feast? This time, players will be the chefs! Prepare your perfect X'mas dinner and have your creations scored to earn points that can be exchanged for great rewards! Players will choose from a limited selection of cooking ingredients and must come up with delicious X'mas dishes. Cooking ingredients refresh at certain times so players can continue experimenting with their dishes. Every dish made will be recorded allowing players to see their culinary progress.
X'mas
Tree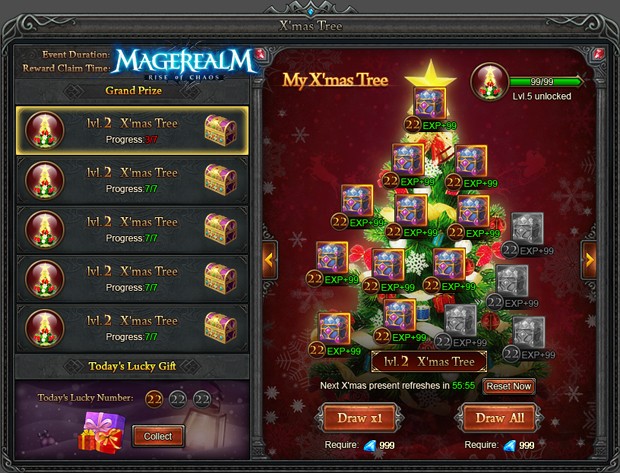 Players can draw gifts in different levels of Christmas trees. Get exprience from drawing gifts to level up your Christmas tree. Complete drawing of the whole tree to gather Christmas Exclusive Weapons and Fashions for Extra Rewards!
About GTArcade:
GTArcade is a leading developer and publisher of free online games. With its guiding principle "sharing simple joy," GTArcade has developed award winning MMORPG and strategy games for browser games and mobile platforms around the world. Visit www.GTArcade.com today and play all our games for free! Partake in the gaming experience of a lifetime!

More Related News:
Magerealm_X'mas Madness Part Ⅰ Hot Events
Magerealm_Merry Christmas to all players in Magerealm!
Magerealm_Magerealm Welcomes 2016
Magerealm_New Year Harvest Day Events
Magerealm_A New Year, A New Update