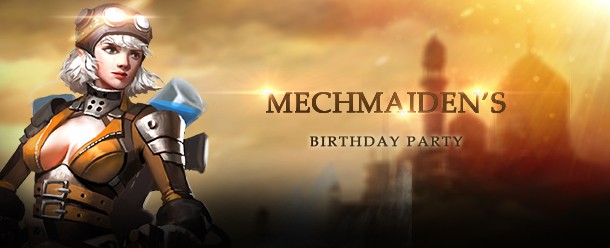 Mechmaiden's Birthday Party
December 8th is Mechmaiden's 20th birrthday. She will hold a tremendous party in the magic Oakland. If you succeed in winning her favor, you will get a chance to recruit her as your battle mate. Come on and attend Mechmaiden's birthday party with us!
Mechmaiden's

Evolved skill unlocks at Siphon lvl.13:
Ultimate Skill(Energy Armor)
When you get hurt, there is a 30% chance to trigger Energy Armor, which can protect yourself from any damage, lasting 2 seconds.

Duration:
Dec.7th-Dec.9th
Server:
S1-S110
Rewards:
| | |
| --- | --- |
| Reach 499 pts in Mage Poker per day | Hero Inherit Potion*10 |
| Complete Egg Hunt 4 times per day | Hero Inherit Potion*10 |
| Complete Evil Banisher once per day | Hero Inherit Potion*10 |
| Recharge 4,000 Diamonds in total daily | Hero Inherit Potion*20 |
| Spend 1500 Hero badges and 1000 diamonds to recruit Mechmaiden | Summon Card - Mechmaiden*1 |
About GTArcade:
GTArcade is a leading developer and publisher of free online games. With its guiding principle "sharing simple joy," GTArcade has developed award winning MMORPG and strategy games for browser games and mobile platforms around the world. Visit www.GTArcade.com today and play all our games for free! Partake in the gaming experience of a lifetime!

More Related News:
Magerealm_Christmas Tarot! (Tarot Master Changes)
Magerealm_New Codex System Arrives!
Magerealm_Capricora - The Angel of December
Magerealm_Pre Christmas Hot Events
Magerealm_X'mas Madness Part Ⅰ grand release!