Angels are the masterpiece of the Titan when the world was created. Mages of the land have the ability to summon their own angels of light and darkness. Although this powerful ability works no where near the scale it used to before it was passed down through the generations, people's pursuit of power is endless. To restore this power to its former glory, the Mage Council assembled dozens of experts in the art of Angel Summoning across the land. After decades of research, trial and errors, our great mages were able to infuse the power of the cosmos into a special material. Our most experienced artisans were able to use this material and craft 12 Zodiac Vestments. Once Celeste or Eclipse dons these garments, they turn into one of 12 Zodiac Angel with the power of the galaxy at their command!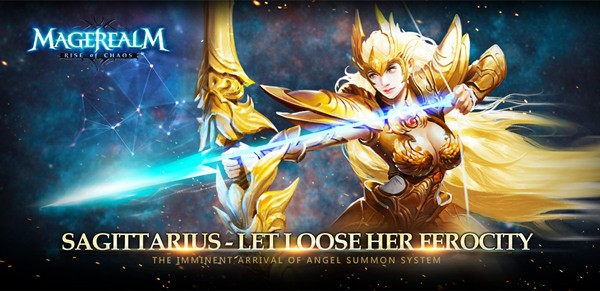 News of this invention spread like wild fire, everyone in the realm is talking about it. It's not easy to win the Zodiac Angel however. One need a strong Battle Rating plus the grace of the Zodiac Angels to summon their power. Since we are fast approaching the end of November, the next Zodiac Angel ready to be summoned by the worthy is Sagittarius. A lovely and just Angel, she will punish all evil with her arrows of judgment.
About GTArcade:
GTArcade is a leading developer and publisher of free online games. With its guiding principle "sharing simple joy," GTArcade has developed award winning MMORPG and strategy games for browser games and mobile platforms around the world. Visit www.GTArcade.com today and play all our games for free! Partake in the gaming experience of a lifetime!

More Related News:
Magerealm_Thanksgiving Celebration
Magerealm_Black Friday Hot Events
Magerealm_Thankgiving Single Recharge Bonus
Magerealm_Win Adamantine Wolf in Harvest Day