Monthly Card Grand Release! Up to 30,000 Realmgems Return!
Monthly Card Detail:
1. Reach required amount on a single recharge to activate Monthly Premium. Log on daily to receive return bonus. Lasts 30 days.
2. Monthly Cards are separated into Monlty Value Card (2000 Diamond) and Monthly Premium Card (4000 Diamond), the more you recharge, greater the return bonus. Only 1 type of Monthly Card can be active at one time.
3. Players can recharge for current Monthly Card 5 days before it expires. When recharging, players may choose the current card or another card (if a new card is chosen, the new return bonus is available when current card expires).
4. Player can not claim missed daily return bonuses.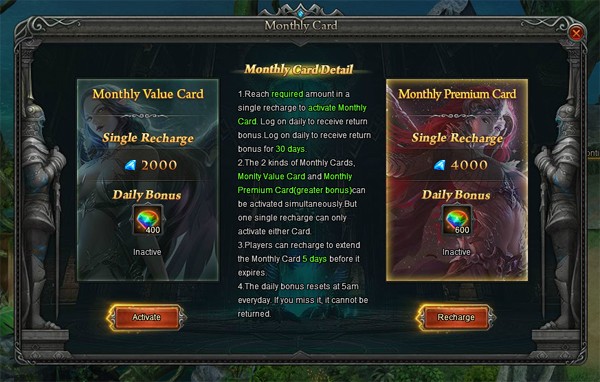 About GTArcade:
GTArcade is a leading developer and publisher of free online games. With its guiding principle "sharing simple joy," GTArcade has developed award winning MMORPG and strategy games for browser games and mobile platforms around the world. Visit www.GTArcade.com today and play all our games for free! Partake in the gaming experience of a lifetime!

More Related News:
Magerealm_Guild vs Guild: Turf War
Magerealm_New Game Mode: 5v5 Arena