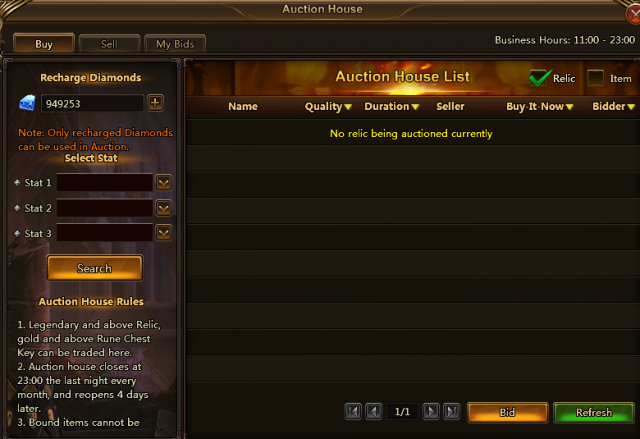 [Gameplay Access] Click on the "Auction" right below the small map on the higher right corner of the screen.
[Requirement] The character reach lv. 40.

[Description]

1. About Auction

* Legendary and above Relic, Rune and some other items can be traded here. Players can bid and trade freely.

* Auction is an X-server system. Players from the same X-server Zone can trade with each other.

* Only recharged diamonds can be used in Auction.

2. I want to buy

* Each bid increase the previous price by 5%.

* Players can search for Relic that enjoys corresponding stats in the search box on the left.

* Players can set auto-bid so that you do not need to stare at Auction all the time.

* If a player get a deal, the auto-bid system will return unused diamonds; if the player fail to get a deal, the auto-bid system will return all of the diamonds.
3. I want to sell

* Only unbound Relic can be traded in Auction. Once Relic has been enhanced/socketed/equiped, this Relic became bound and nontradable.

* Players can get diamonds from successful sales. However, earned diamonds from Auction may not be used in Auction again.
About GTArcade:
GTArcade is a leading developer and publisher of free online games. With its guiding principle "sharing simple joy," GTArcade has developed award winning MMORPG and strategy games for browser games and mobile platforms around the world. Visit www.GTArcade.com today and play all our games for free! Partake in the gaming experience of a lifetime!
More Related News:
LoA2_X-server Wars