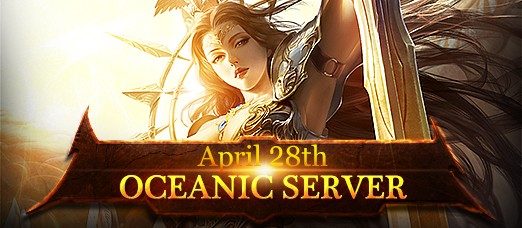 Angels have started their global journey! Next stop: Asia-Pacific!
Congrats to oceanic players, because Guild BOSS and World BOSS will never attack you when you're asleep. :)
Oceanic Server: S30 Midas

Launch Time: HKT 12:00PM April 28th
May the Angels guide you on your epic adventure!
About GTArcade:
GTArcade is a leading developer and publisher of free online games. With its guiding principle "sharing simple joy," GTArcade has developed award winning MMORPG and strategy games for browser games and mobile platforms around the world. Visit www.GTArcade.com today and play all our games for free! Partake in the gaming experience of a lifetime!
More Related News:
LoA_Birth of the Blood|150 BDC|small
LoA_The Daemon Project|225 BDC|small
LoA_World Tree Sealing|232 BDC|small
LoA_Abyssal Invasion|235 BDC|big
LoA_Fall of the Elves|265 BDC|small