With the sound of exploding fireworks and beating drums in the distance, League of Angles II welcomes a new special visitor - the Lunar Lion! As the star of the Lion Dance, one of the most popular performances during the Lunar New Year, the Lunar Lion has traveled all the way to LoA2 to bring joy and laughter to all. Come find out more about the mount of good fortune!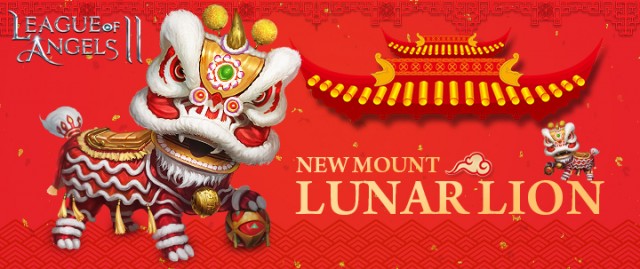 The Lunar Lion comes from Lion Dancing in Chinese and other Asian cultures. During festivals or other important gatherings, a pair of dancers will put on a highly decorated lion costume and perform the unique Lion Dance for onlookers. Using fancy footwork and colorful expressions, the Lion Dance is all about bringing joy and laughter to people.
Mount Skill:
Lunar Dance

(Lv.1):

Reduce DEF and END

of all enemies by

10%

for

2

rounds.
Lion Dance

(Lv.1):

Increase Dodge

of the squad by

1.4%

each round, stacks up to

5

times and lasts until end of battle.
The festival Lunar Lion mount will show up in

Wheel of Fortune

from

Jan. 29th to Jan. 31st

! Tame this legendary mount and turn him into your best companion. Play League of Angels II today and discover one of the best free to play MMORPG's right on your browser!
Official Site: http://loa2.gtarcade.com
Forum: http://community.gtarcade.com/forum.php?gid=3014
Facebook Fan Page: https://www.facebook.com/LeagueOfAngels2
GTArcade Game Platform: http://www.gtarcade.com