League of Angels II is a 3D browser MMORPG recognized by Facebook as one of 2016's Best Web Games. The addictive online RPG is celebrating its first birthday by rewarding its fans with gifts and collection of precious moments over the past year.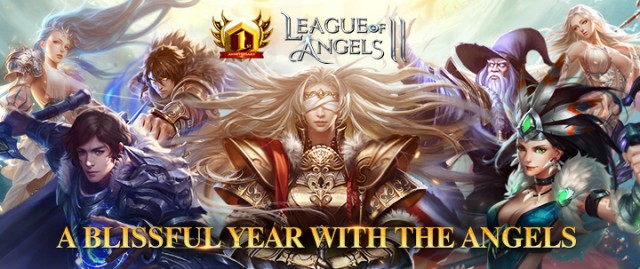 "A blissful year with the angels."
It has been an amazing and unforgettable year for League of Angels II and its players. Its predecessors, League of Angels II and League of Angels - Fire Raiders for mobile, have both achieved global success and received numerous Best RPG game awards in 2015. Since the launch of League of Angels II in April of 2016, the game has been featured globally by Facebook a record four times and was named one of Facebook's Best Web Games of 2016.
There are currently 79,926 active player Guilds on Sapphire, with total daily donations reaching as high as 8,100,000 Diamonds. On an average day, 620,925 duels take place in the Arena and Elite Dungeon is raided 7,111,834 times. It is rare that a MMORPG community remains this active a year after its launch, and League of Angels II is very proud of its great playerbase that continues to help create new milestones.
From April 7th to April 20th, players can gain extra bonus by completing daily quests. Special items will drop from dungeons including Anniversary Toast, Cake, Party Banners and Balloons. Special shards can be obtained from specific Dungeons and One-Year Anniversary gifts can be exchanged with shards. The brand new treasures include new outfit and wings Tribal Warlord, the new mount War Mammoth, and a Special limited edition Mini-Theresa Battle Pet.
In addition, League of Angels II is also celebrating the anniversary by releasing a collection of precious moments for each player. Players are also encouraged to reminisce with their friends in the game and share fond memories, while looking forward to creating many more in the future.
Rounding out the celebration, a 1-Year Anniversary limited edition title would be gifted to all the valiant warriors of Sapphire. If you haven't already, you can join the epic journey with Angels here.
Additional Information:
Official Site:
https://loa2.gtarcade.com
Forum:
https://community.gtarcade.com/forum.php?gid=3014
Facebook Fan Page:
https://www.facebook.com/LeagueOfAngels2
GTarcade Game Platform:
https://www.gtarcade.com