Legacy of Discord Celebrates Its First Six Months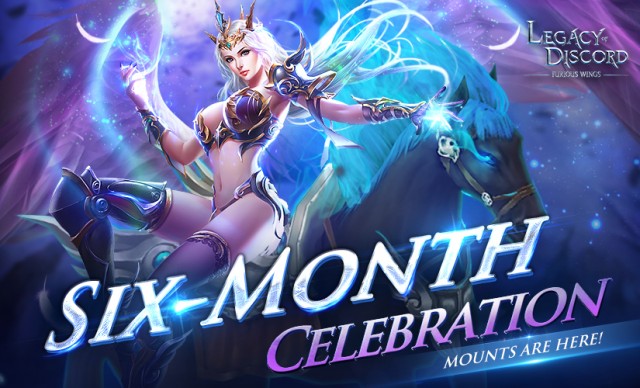 01: Legacy of Discord is ready to kick off its 6-Month Celebration event.
May 9th, 2017 – Legacy of Discord - Furious Wings, the top-grossing mobile ARPG in Europe and the Americas, is ready to kick off its 6-Month Celebration event.
Following the worldwide launch in November last year, GTarcade's Legacy of Discord has topped the grossing charts in over 30 countries and built a community of millions of active players during its first six months. For the 6-Month Celebration update, a highly requested feature is finally making its way to the game: Mounts! A whole new Mount system will allow players to cultivate and ride all sorts of mythical beasts into battle. In addition, a chronicle of each player's accomplishments called Your Legend is also being released. The trials and tribulations that players have experienced on their path to glory have been recorded in this chronicle for them to enjoy and look back on.
02: The chronicle of each player's accomplishments called Your Legend.
A Vibrant Game Community
In late April of this year, LoD players (known as Guardians in the game) were asked to share stories of their adventures for the upcoming 6-month celebration. The event quickly drew a firestorm of over 10,000 comments in just four days.
"I played nonstop until I reached the level where I can join a guild. I joined one and my awesome guildmates have taught me everything I now know in the game. Many have become good friends, both in and out of the game. We always have each others' backs, no matter how strong the enemy is. We stick together, one for all, all for one," player hkt268 comments. Another player adds: "What I love about this game is that you can play solo, but when you find new friends and work together towards something special, it becomes so much more fun!"
New guilds have grown into powerful organizations as players from around the world join together and develop strategies to conquer their rivals. Tales of camaraderie and triumph like this are shared every day in over 190 countries and regions where Legacy of Discord is available. Guardians often speak about their adventures and accomplishments through the game's feedback system, social media, and all aspects of life.
Legacy of Discord has built a healthy and vibrant game community over the past 6 months, not only due to players had bonding in guilds, but also because of how close Guardians are connected the development team. In December 2016, one Guardian said, "I love the different costumes with their insanely cool aesthetics and effects. But it would be even cooler if I could alter the special visual effects on other players." The dev team was inspired by the idea, and quickly came up with the Twilight Set, equipment that can temporarily absorb the effects from other characters around them. Since its release, the Twilight Set has been the most popular equipment set in the game.
The Future of Legacy of Discord
Liu Wanqin, head of GTarcade and Vice President of Youzu Interactive, had this to share with the players: "We would like to extend our sincerest thanks to our Guardians for all their support and understanding in these past six months. You guys are the ones that have made Legacy of Discord one of the best mobile ARPGs in the world. We will work even harder to add more exciting gameplay features, awesome new cosmetics, and to make the game more accessible to players around the world."
04: A highly requested feature is finally making its way to the game: Mounts
With 9 major updates and numerous small content patches since its launch last year, the world of Legacy of Discord has grown substantially with rich new content and fun-filled events, such as Cross-Server War, Firework Festival and Cooking Festival. The game now supports 14 languages and more will follow.
According to the team, Legacy of Discord will be launching a brand new flight system next month that will provide a unique and amazing view of the game. If you are interested in experiencing this epic free to play adventure that has thrilled millions of players around the world, join up now!
Additional Information:
Play Legacy of Discord - Furious Wings now by visiting the following link:
http://lod.gtarcade.com/
For the latest news and updates, follow Legacy of Discord – Furious Wings at:
https://www.facebook.com/LegacyOfDiscordFW
Check out the forums at:
http://community.gtarcade.com/forum.php?gid=3098