Your Characters Need You NOW!
Myths and legends about your absence have started to abound in the world of Legacy of Discord. Do you want to log in now and show them what a glorious comeback you are capable of? Learn all about the new content we've added to the game, the vast number of updates and improvements we've made so far to familiar gameplay since you last played, and much, much more.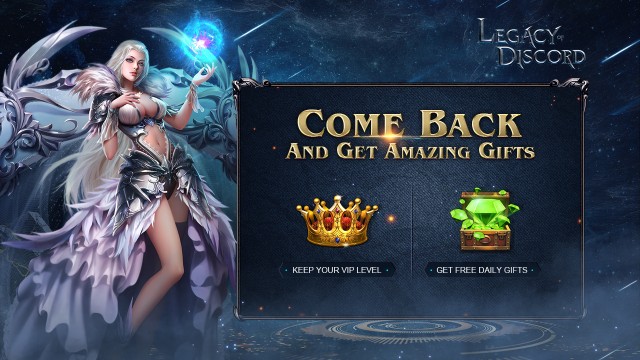 Benefits for Returning Players
We are prepared lots of benefits for our returning players who haven't logged in to LoD for at least 7 days. Including:
- Keep your server's VIP Level if the returning guardians choose to start on a new server and get double events rewards for the first 7 days!
- If players continue on their old server, they get free daily returning player gifts and can buy discount item packs.
- The items you get from the returning player gifts will not be counted towards Tycoon events.
In-game Events
We will introduce a series of invite code events for our returning players and active players. Here's what you can get.
1) Each player will have a group of invite codes and they can send the codes to other players who have not logged in for a long time through FB, email or other ways.
2) The invited players can get gifts if they log into the game again by using the code.
3) Based on the total number of invited players, there will be a rewards when certain milestones are hit for the player that invited enough friends back.
Rules:
- Invite codes can be posted on FB.
- Inviting players can obtain lots of Diamonds according to the amounts of their invited players. If you successfully invite 5 players to log back into the game, you will receive 500 Diamonds. Successfully invite 10 players back to get 1,000 Diamonds and 15 players or above to get 2,000 Diamonds.
Additional Information:
Try out Legacy of Discord – Furious Wings by visiting the following link: →
http://lod.gtarcade.com/
For the latest news and updates, follow Legacy of Discord – Furious Wings at
→
https://www.facebook.com/LegacyOfDiscordFW
and check out the forums at:
→
http://community.gtarcade.com/forum.php?gid=3098