New Artifact Hero Spiritmaster Lulu Descends!
League of Angles II welcomes the next Artifact hero – Spiritmaster Lulu! As a skilled spiritmaster, Lulu wields the power to summon powerful spirit animals to her aid. As the second artifact hero to arrive on Sapphire, will she surprise us with her amazing performance just like the first artifact hero Isolde? Come and learn more about Spiritmaster Lulu!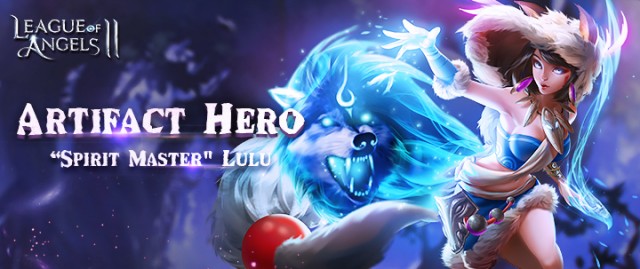 Image: Artifact Hero Spiritmaster Lulu
Accompanied by the spirit creatures of the mystical jungle, Spiritmaster Lulu is known as nature's guardian and invokes the spirit of the wild to defeat her enemies. Her main companions are her Spirit wolf and the spirit falcons. She can increase the attack of her allies and her Hunter's Mark ability both lets her do more damage and heal as well.
And just like with Isolde, once players acquire Lulu, they will not any more copies of this hero to augment her! Now let's look at her unique skills.
Hero Skills:
Spirit Wolf (Lv.1): Summon a Wolf spirit to deal (172%+ 60) DMG to all enemies; enemies with 1/2/3 stacks of "Hunter's Mark" take an additional 25%/ 50%/100% DMG.
Falcon's Mark (Lv.1): Summon 3 falcons to deal (184%+ 60) DMG to 3 random targets and apply "Hunter's Mark" (up to 3 stacks per target) for 3 rounds; if multiple falcons attack the same target, the damage is decreased; this skill replaces Lulu's basic attack; "Hunter's Mark" ignores immunity and cannot be dispelled.
Nature's Protection (Lv.1): Increase ATK of the entire squad by 10% for 3 rounds; if an enemy with "Hunter's Mark" dies, Lulu recovers 25% of her missing HP, and her ATK and DEF is increased by 8% for the remainder of the battle.
Spirit of the Wild (Lv.1): Lulu is immune to all Rage reducing effects; When Lulu's HP is above 50%, she gains 20% bonus to ATK; when Lulu's HP is below 50%, she gains 20% DR.
Can't wait to embrace the wild with LoA2's second artifact hero? You will find Spiritmaster Lulu in X-server Resource Tycoon from June 20th to June 25th! Play League of Angels II today and discover one of the best free to play MMORPG's right on your browser!