Dress up New Artifact Costume Summer Fantasy
To make this hot summer more wonderful, League of Angels II is glad to bring you a new Artifact suit: Summer Fantasy! Inspired from sweet ice creams and colorful fruit juices, this delicate suit is a summer must-have for those who want to stand out and enjoy a different joyful summer season in LOA2! Participate in special events and get Summer Fantasy to wow the crowd!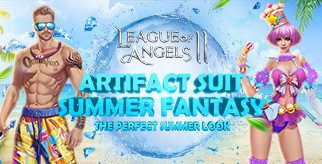 Summer Fantasy Outfit is an artifact suit that includes an Outfit and Wings. Collect 1 part to activate 1 skill, and collect 2 to activate both skills.
Cool Summer
DMG to the 2 enemies with the lowest HP, also reduce healing effects on them by rounds. The damage of this skill increases as your HP decreases.
Summer Breeze
Deal DMG to a column of enemies and freeze targets for 1 round. Targets that are immune to the freeze effect will take an additional 100% DMG. This skill be used in the first round.
From July 12th to July 15th, players can exchange Summer Fantasy Outfit Chest Voucher which can be used to exchange for the Summer Fantasy Outfit on July 21st, by reaching certain amount of Tycoon points, recharging a total of 2000 topaz and using certain amount of Carnival Dance and Carnival Crown. Besides, players can get Summer Fantasy Wings Chest Voucher for free by reaching certain amount of Tycoon points and recharging a total of 2000 topaz during the event.
By the way, you can get more rewards at a big discount than ever during the tycoon event time. More surprises await you in game. Do not miss out this chance! We hope players will enjoy these special events to start off the summer. Look for more great content coming to League of Angels II!