Gtarcade Live Streaming Platform
Gtarcade will introduce its new Live Stream Platform on Nov. 27th! The Gtarcade Live Stream is a live video sharing platform for players to watch and share game-related live streams with others. Take a look at what features you can find on the live stream platform.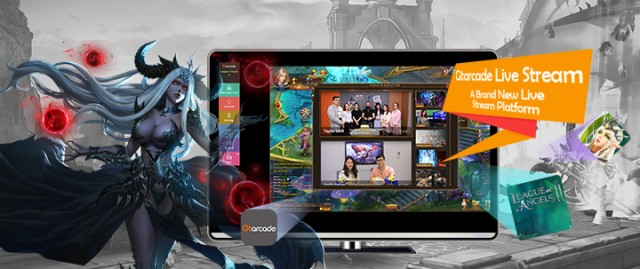 Various Live Streams Available
Gtarcade Live Stream Platform is available to all Gtarcade users to watch streams of various kinds. The stream contents will include, but are not limited to game events, game strategy, game commentary, fan art creation, cosplay, festival celebrations and more... all LIVE! Players can open the streaming platform on their browser from the sidebar of the game interface or within the new mini client game interface. Browser access to the platform will be available on Nov. 27th and the mini client live streaming will be available on Nov. 30th.
Interact With Streamers and Viewers
The Gtarcade Live Stream Platform provides a chat window and virtual gift function which enables streamers and viewers to interact at time. When watching live streams, players can send messages to the streamer and other viewers through the chat window. The gift function allows viewers to send virtual gifts to their favorite streamers. There are six kinds of virtual gifts, namely Lollipop, Popcorn, Giftbox, Motorcycle, Sports Car, and Yacht. These gifts can be obtained for free when Recharging on Gtarcade and can only be used to send to streamers. Streamers can then use their gifts like Recharge tokens to get Topaz and other in-game rewards!
Players can also watch live streams in a smaller overlay while they are playing LoA2. All streams are recorded and saved so players can go back and watch them at any time, and players can send gifts to the video creator even function is still effective when seeing the video playback.
Next Live Stream Star Recruitment
League of Angels II is currently recruiting live streamers from the playerbase! If you're interested in becoming a Gtarcade Live Streamer, please contact us via https://goo.gl/w6yb6T.