Tired of waiting for the loading process?
Bored of watching the similar battle scene again and again?
Eager for shorter time to finish daily tasks?
Your voice has been heard and Speed+ is coming!
A whole new feature on GTarcade desktop has been released which can
accelerate your game process
in LoA, LoA II, and LoA III or any other webpage on the client.
With this new feature enabled, you can talk faster, run faster and battle faster. It's like you enter an accelerated world and the fast forward button is in your hand.
You can enable/disable the function any time you like
as the rhythm of the game is completely up to you.
You can enable it when you want to speed up the tedious auto battle or just eager to finish all the daily tasks in a shorter time. A gamer's heart will definitely race while running at such a fast pace for the first time. The loading and switching process will also be shorten thanks to GTarcade desktop.
How to enable Speed+?
1. Download GTarcade desktop:
https://www.gtarcade.com/en/micro/download
2. Enter the game you play on GTarcade desktop.
3. Find the Speed+ button with a small rocket in the top right corner.
4. Click the button and click "Accept"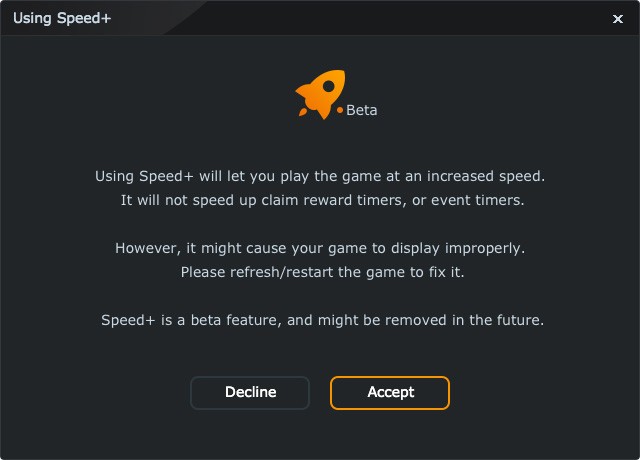 Come and try playing LoA, LoA II, or LoA III on GTarcade desktop to enjoy an unprecedented gaming experience.

Can I play the game using my Facebook account?
If you played League of Angels or League of Angels II on Facebook before, you can connect your Facebook account to GTarcade Desktop on the page of server list. Then you can play your Facebook characters and claim your rewards.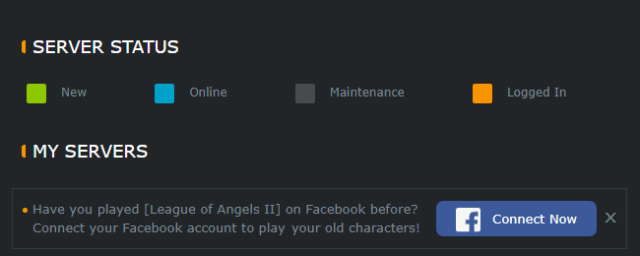 If you get the error message below, please logout of GTarcade Desktop, and then quick login your Facebook account by clicking the Facebook icon on the GTarcade Login box.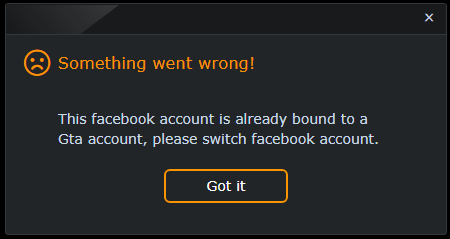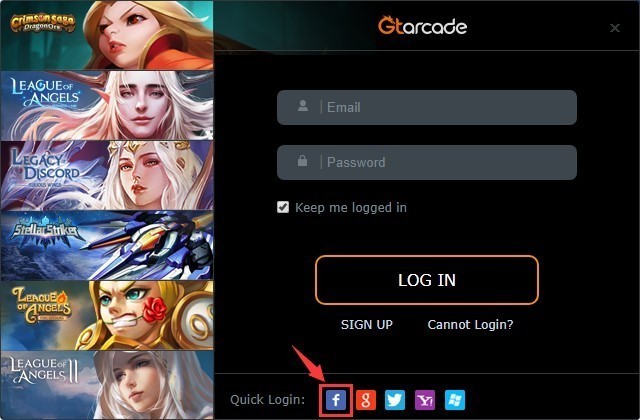 About GTarcade desktop:
GTarcade desktop is a mini client designed for a better gaming experience.
1. Speed up your game loading speed
2. Quick fix your game problems
3. Remember all your custom settings
4. Exclusive game rewards
5. Connect with other players in the community
6. Wonderful live streaming
"Vote for your champion and Win Gift packs for free" is well underway on GTarcade.
Free redemption codes are issued for celebration the game and the latest redemption code will be released on July 6th (EST).
Please note that this is still a beta version. Speed + is not recommended to be enabled in the circumstances below where display error may occur.
1. Countdown (Refresh can fix it)
2. X-server wars
3. World boss
4 Chat translation
If you have any problem with it, please leave your comments at our game forum or on facebook page. We appreciate your feedback and will use it to evaluate changes and make improvements in our products.
Click to experience ahead of others:
https://www.gtarcade.com/en/micro/download