This summer we rolled out an amazing feature that not helps save time from daily quests, but also upgrades your gaming experience. Higher load speed, faster battling and questing, let's see what we can get with
Speed+!
Warriors, welcome to the world of Speed+!
Speed+ is an exclusive feature on GTarcade desktop specially designed for LoA series players, making your game running noticeably faster!(Try it now)
Here are some of distinguishing features that come with the
Speed+
on GTarcade desktop:
Suitable for LoA series;
Speed up moving speed, battling, auto-questing…
Shorten your loading and scene-switching time;
Easy to use: enable/disable the function by clicking "Speed+" button in the game window;
Stable and secure: accelerate your game by algorithm, which means safe for your computer hardware;
Permanently free for LoA series players.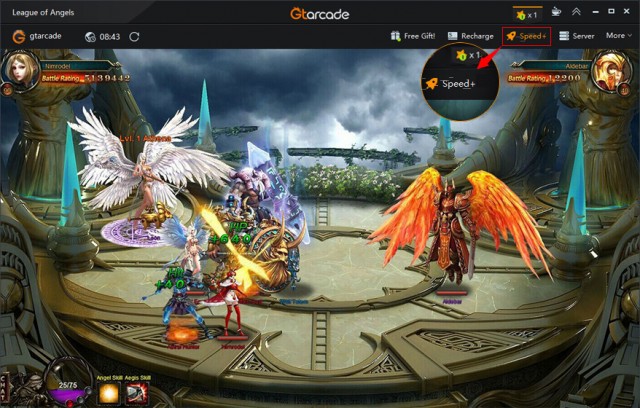 GTarcade desktop,
one-stop mini client special designed for LoA series players, has always been about providing players with a better gaming experience. We are encouraging everyone to try LoA series on GTarcade desktop for an upgraded gaming experience. If you played LoA on Facebook before, you can connect your
Facebook account
to GTarcade Desktop on the page of
server list
. Then you can play your Facebook characters and claim your rewards.

More About GTarcade Desktop:
1. Quick fix your game problems
2. Remember all your custom settings
3. Exclusive game rewards
4. Connect with other players in the community
We appreciate your feedback and will use it to evaluate changes and make improvements in our products.
Click to experience ahead of others:
https://www.gtarcade.com/micro/download?game_id=39