League of Angels II has newly updated a clothing set Crimson Blessing, which is specially designed for New Year! It is believed that wearing red color costume in New Year will bring people good fortune. Crimson Blessing will be available in Single Server Resource Tycoon and Angel's Carnival event from Jan. 6th to Jan. 10th. Wear this auspicious clothing set and have a good start in 2019!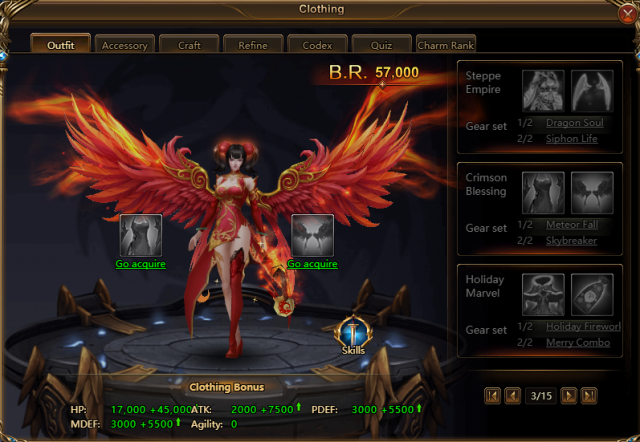 Crimson Blessing is an Artifact suit that includes two parts - Outfit and Wings, collect 1 part to activate 1 skill and 2 to activate both skills:
Meteor Fall(Max Level)
Rain down fireballs from the sky to deal (307%+11440) DMG to all enemies and an additional 50% DMG to the enemy with the lowest HP percentage; reduce ATK of all enemies by 20% for 2 turns.
Skybreaker(Max Level)
Deal (383%+14300) DMG to a horizontal row of enemies and reduce their DEF and ATK by 30% for 1 turn (this effect ignores immunities).
Do you want to get yourself this stylish new suit? From Jan. 6th to Jan. 10th, join the Single Server Resource Tycoon and Angel's Carnival, and you'll have chance to gain a whole set of Crimson Blessing! Meanwhile, many other clothing sets will be available in Angel's Carnival. More wonderful events will be awaiting you in the game! Stay tuned and have a good time in LOA II!
Download now: https://www.gtarcade.com/micro/download?game_id=160
Official Site: http://loa2.gtarcade.com
Forum: http://community.gtarcade.com/forum.php?gid=3014
Facebook Fan Page: https://www.facebook.com/LeagueOfAngels2