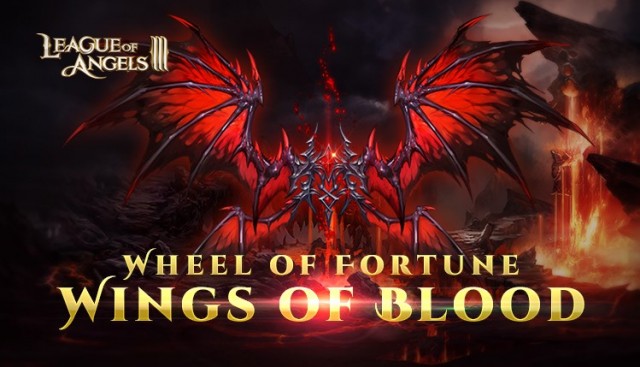 Good news to our fans and players! After the V4.7.0 update, we added new permanent Wings of Blood Sigil in game. From Apr.28th to Apr.30th, Wings of Blood can be obtained in Wheel of Fortune Event, don't miss your chance to get these strong wings and increase your BR in this event!
Event Time: Apr.28th to Apr.30th
Entrance: Click "Wheel of Fortune"
Wings of Blood Feature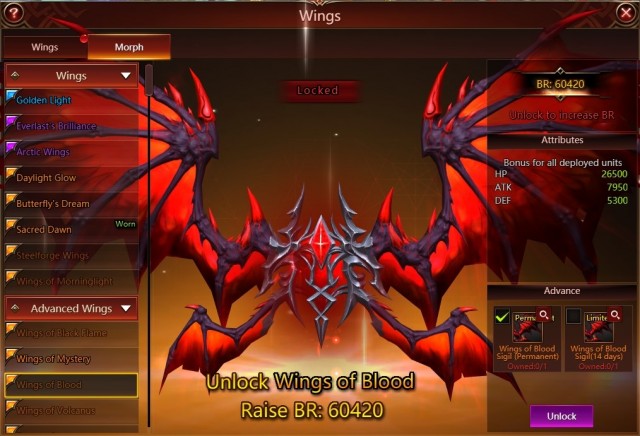 Wings of Blood, the ultimate reward of League Hero Championship, now is join your Wings gallery. After unlocking Wings of Blood, it can help you raise more than 60K BR. The bonus for all deployed units are HP:26K, ATK:7K and DEF:5K. Come and unlock this powerful Wings of Blood.
About the Wheel of Fortune Event:
1. During the event, you can claim Gem Chest from Lv. 4-7 and Creation Equipment materials when recharging specific amounts. Double Epic Gem Combine Scroll and Legendary Gem Combine Scroll could be obtained than the last event as rewards when you meet some certain requirements. Come to enhance your equipment and get more Gems!
2. Good news for our VIP0 players, just finish some daily tasks in game; and you can win WoF tickets to spin the wheel, more spinning more wins.
3. We also added more rewards for our players! A series of rewards can be claimed when you spin in Wheel of Fortune enough times, especially for players who have a desire for Gem Lv. 5-7.
4. With a grand discount our VIP players can purchase WoF tickets cheaper!
Note:
Please note that the above content might be adjusted due to changes in the development plan. Final updates will be determined in-game.