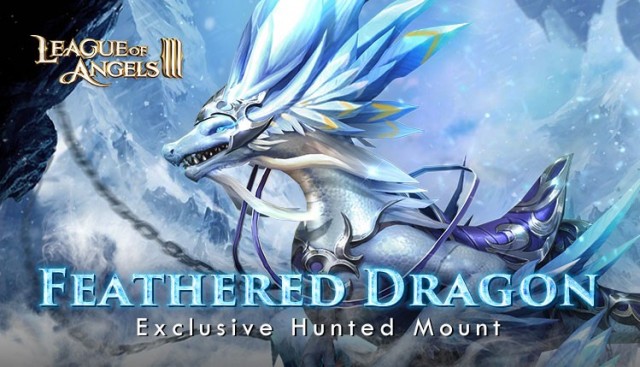 A brand new event X-Server Roulette is coming! Feathered Dragon, was the most precious prey on Silver Feather Day. Feathered Dragon was hunted by Lydia, she will place the prey in front of her dead father's keel in the evening of the Silver Feather Day every year.
From June 22 to June 24, the new powerful Mount will be available in X-Server Roulette Event! Finishing some daily tasks to win Roulette Tickets. In addition, spin the Elite Roulette to win lots of Mythic Resources, players can win tons of rewards and resources in X-Server Roulette Event!
Event time: June 22 to June 24
Entrance: X-Server Roulette
>>Feathered Dragon
Feathered Dragon, is the most powerful Mount in the game. In this X-Server Roulette Event, you can increase over 70K BR after you unlocking this precious Mount!
>>New Event X-Server Roulette
>>New Event X-Server Roulette
1.The X-Server Roulette is divided into the Normal Roulette and the Elite Roulette types. Joining the Normal Roulette costs Roulette Tickets. Joining the Elite Roulette costs Topaz. Players can win Gold Voucher only in Elite Roulette, and Gold Voucher can exchange awesome rewards in Event! The Gold Voucher will NOT be emptied after end of the event.
2.Bets can be made during the Elite Roulette. The bets are divided into red/black bet and number bet types. You can make red/black and number bet at the same time.
3.Red/black bets and number bets both require Elite Tokens. Every spin costs a bet token.
4.You will get a fair amount of Elite Tokens when you win a red/black bet.You will get a Super Gift when you win a number bet.
5.Every spin at the Normal Roulette and the Elite Roulette grants roulette points. Get a certain number of roulette points to get a reward. When the event is over, you will get a ranking reward based upon the number of points you got.
6.Players spin the Roulette can win points, the Top Three players in the X-Server Points Rank can win Feathered Dragon directly.
7. The Roulette token could be used in Event shop where players can purchase massive event theme resources and other Mounts with a great discount!
BTW, after some certain requirements, players can claim a series of great rewards such as Creation Equipment and Gem.
Note:
Please note that the above content might be adjusted due to changes in the development plan. Final updates will be determined in-game.