Dear Guardians, Join us on PC!
Event Time:
10 May 00:00 – 13 May 23:59
(EST)
From 10 May 00:00 to 13 May 23:59 (EST), we will select 1000 lucky players every day (4000 players in total) who played the game on the PC version and send them a redeem code (200 Diamonds).
We already send out 1000 redeem codes! Go check now!
1. Download and install GTarcade Desktop (https://www.gtarcade.com/en/micro/download/182).
Enter the game during the event time, you will receive a redeem code (200 Diamonds) within 24 hours.
How to get my rewards?
Redeem Code : Check the redeem code after 24 hours via Desktop Mail at the right top corner (As shown in the picture below) .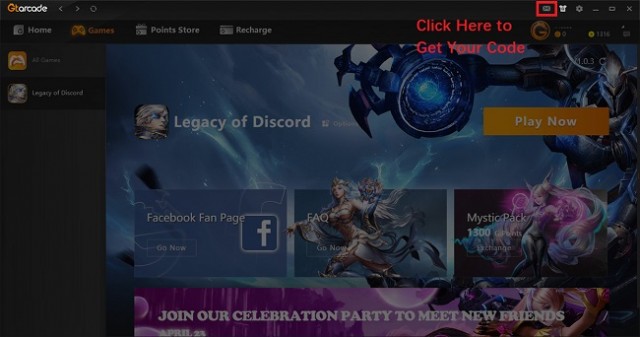 For a better gaming experience, please read FAQ before you get started>>
https://www.gtarcade.com/en/news/18728.html
Hope you have fun on Gtarcade Desktop!
FAQ
1.
What are the system requirements for GTarcade Desktop? Can I play Legacy of Discord on Mac?
Windows 7 or later.
We sorry that Mobile games are unavailable on GTarcade Desktop Mac version now.
2. What's the default Keyboard control?
Keyboard control is available for this game.
W- Forward
S - Backward
A - Left
D - Right
E - HP Potion
Q - MP Potion
1 - Cast Skill 1
2 - Cast Skill 2
3 - Cast Skill 2
4 - Ultimate
5 - Metamorph
Tab - switch between skills
We're sorry the default shortcut keys can't be edit now.
3. What's G point? How to earn and use G points?
G points is available on GTarcade Desktop. Play games on GTarcade Desktop for an hour and you will earn 20 G points (daily limit:40 G Points).
You can go to 'Points Store' to use your Points.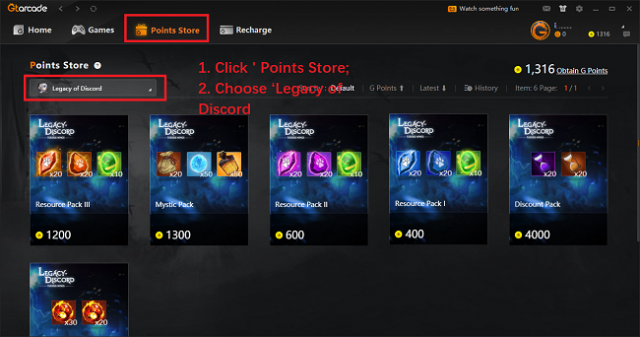 4. Can I log-in the game via my Facebook account or other third-party account?
No. Unfortunately, only GTarcade account is available to log into the Desktop app at the moment.
5.
Can I adjust the size of game window?
No. It's fixed now.
6. Why I can't find my Character?
The First you enter the game, enter your server number.
And when you exchange gift packs in Points Store, you need to enter your server to find your character.
If you have met any other problem on PC, please send us a screenshot and account info to
desktop@gtarcade.com