Seven's Blessing has descended upon Westeros. Simply using Blessing Stones to make blessings and light up different attributes for your dragons, you will be granted enormous power by the new feature Dragon Blessing and perform better both in battlefields and city building in Game of Thrones of Winter is Coming. Read on to learn more details.
Entrance: Click the "Dragon Blessing" icon that is next to the Merchant on the Dragon panel.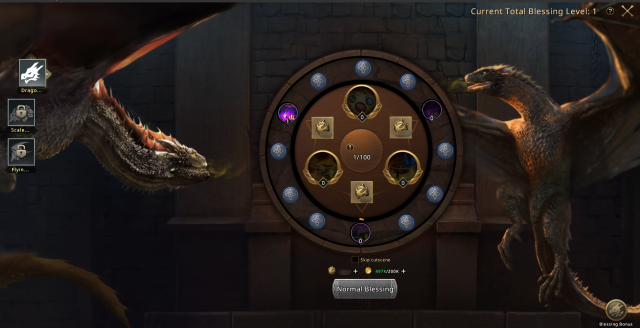 Obtain Blessing Stones and Make Blessings
You can use Blessing Stones to carry out blessings and light up attributes or items on the Blessing Plates. You will permanently obtain the corresponding skill effect from lighting up attributes, and obtain items from lighting up items.
There are 2 types of blessings, Normal Blessing and Advanced Blessing. Each Normal Blessing will grant you a certain amount of Lucky Points. When the Lucky Points reach the maximum, you will be able to carry out 1 Advanced Blessing, after which the points are reset to 0. Please note that the exact number of Lucky Points required to reach the maximum increases with the number of times you enter the center of the plates.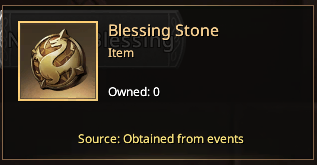 The Blessing Stone can be obtained from Merchant and Dragon Exploration. Plus, you can get it in the Glorious Battle (which is coming soon).
Activate Different Levels of Blessing Bonus
The Power, Defense, Strength, Agility, Crit Chance, Crit Damage and other dragon attributes will be greatly increased after you light up them. You'll be able to activate a new dragon skill as well. For example, once you activate "Unexpected Treasure" for Darkfyre, you can use it to randomly obtain 1 badge.
The attributes across the Blessing Plate are divided into Lower Level Blessing Bonus, Intermediate Blessing Bonus and Advanced Blessing Bonus based on their quality.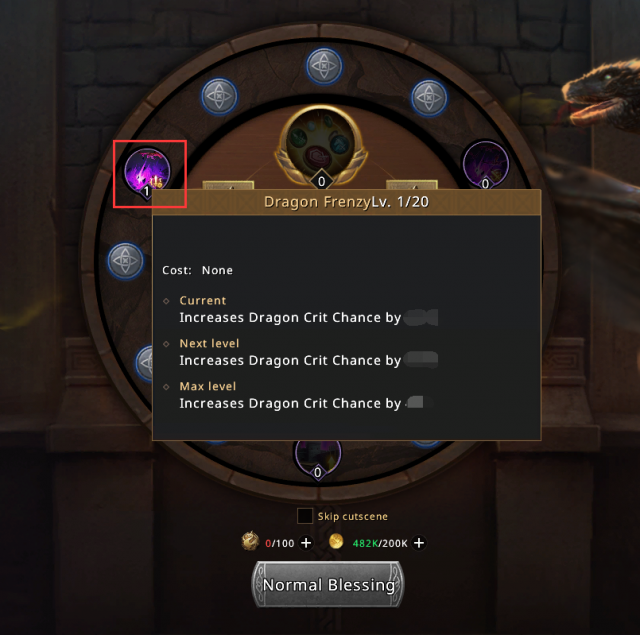 The attributes in the center of the Blessing Plate are Advanced Blessing Bonus and items are of greater value. Advanced Blessings will grant you items and attributes from the center of the Blessing Plate, and Normal Blessings have a chance to light up them.
Each attribute has a MAX level. When this level is reached, a certain percentage of Blessing Stones will be returned when that attribute is lit up again. You can light up and obtain the corresponding items an unlimited number of times.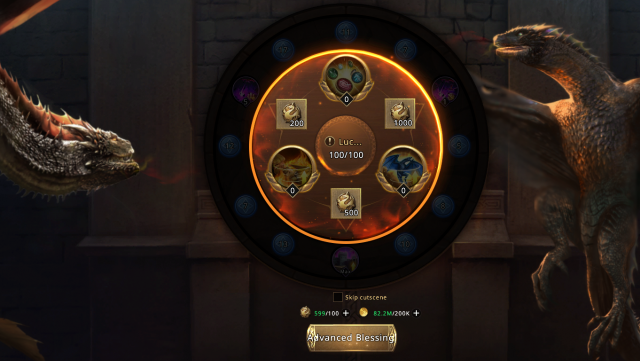 Level up and Unlock More Blessing Plates
There are three parts of the dragon that you can unlock and bless in order to get more blessing bonus: Dragon Head, Scale Armor and Flying Wings.
The total level of all attributes that you get from Normal Blessing and Advanced Blessing is called Blessing Level, which is shown on the right corner of the panel. Increase your Blessing Level to unlock more Blessing Plates!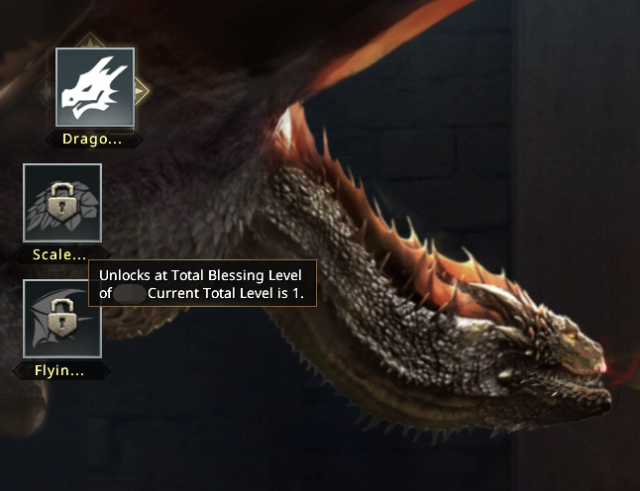 If you have any questions about Dragon Blessing, please don't hesitate to leave your comments here and we'll sort out some of the frequently asked questions.
Please note that the above content might change due to the adjustment of development plans. Final updates will be determined in game.
Follow us on Facebook>>https://www.facebook.com/GOTWinterIsComingBrowser/
Play Games now>>https://got.gtarcade.com/
About Game of Thrones Winter is Coming:
Join the battle in Game of Thrones Winter is Coming, Yoozoo's new real-time strategy browser game. Play the role of an ambitious Westeros lord, determined to save a land plagued by war and put a stop to the endless disputes between the Seven Kingdoms. This new strategy game has been built using the Unity engine and has beautifully rendered characters and scenery designed by renowned artists.
Game of Thrones Winter is Coming has been designed to give players a balanced combination of strategy and roleplaying for a unique gameplay experience. Build your base, expand your territory, recruit characters from the show, train your army, and rewrite history.