Much More To Come As League of Angels II's Second Facebook Feature Comes To An End
After receiving Facebook's "Big Game Feature" back in May, GTArcade's hit free to play MMORPG League of Angels II was once again featured this month, becoming the first browser game to receive such recognition from Facebook within such a short period. As one of the most important channels for the LoA2, Facebook has helped the game explode in popularity all around the world. As the feature week comes to an end, there are much more exciting things to come for LoA2!
The Angels Take Over Facebook
From June 9th to the 15th, LoA2 was prominently displayed on the front page of Facebook's Game Center amongst the top 5 games under "Hot Games". Within the Hot Games page, visitors could see the LoA2 banner showing a selection if the game's unique and colorful characters.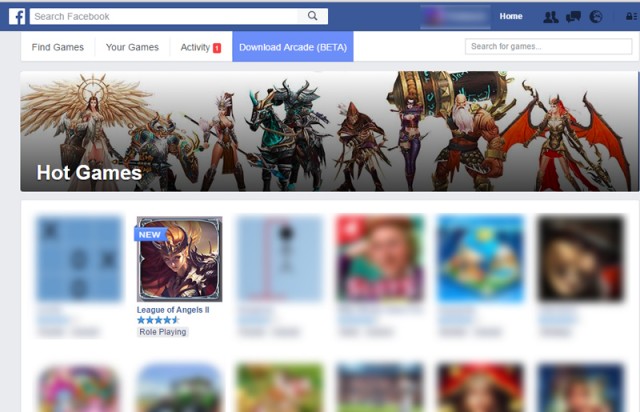 Over the course of the feature week, LoA2 enjoyed a prominent spot under both the Recommended Games and Role Playing Games sections of FB Games. The lovely Angel Theresa was there to invite new warriors to join and experience the epic free-to-play MMORPG.
Feature Week An Overwhelming Success
Thanks to the support from Facebook, a huge number of new players have come to know the world of LoA2. In less than a week, over 500,000 new warriors ventured into the land of the Angels, exceeding previous playerbase growth by 100%. But not only has LoA2 received love from new players, LoA veterans have been showing their overwheming support as well. On the LoA2 Facebook page, posts about the latest feature week received over 3,300 likes and shares, passing the exciting news to tens of thousands of others. Fans also left many encouraging comments for GTArcade. "Congratulations! I've been playing since launch, and I just can't stop!" commented user 'CA UC'.
"The back-to-back feature and recommendation by Facebook as been one of the greatest honors for the League of Angels franchise, and for us at GTArcade", said the developer. "We are extremely happy that our game is receiving so much love."
Soaring Ahead
As LoA2's second Facebook feature week comes to an end, the future is looking brighter than ever. In May, GTArcade launched the European servers along with the multi-language version of LoA2 with promises of more language support to come. Next week, on June 23rd, support for Spanish, Portuguese, and Turkish will be added to the multi-language edition!
In addition, a new game mode and new heroes are slated for release in July. "Guild Expedition" is the long-awaited cross-server PvP mode that allows Guilds from any server to face one another and battle to determine the most powerful guild in LoA2! As for the new heroes, the developer promises "three brand new heroes that will change the way you think about your team formations!"
Official Site:
http://loa2.gtarcade.com
Forum:
http://community.gtarcade.com/forum.php?gid=3014
Facebook Fan Page:
https://www.facebook.com/LeagueOfAngels2
GTArcade Game Platform:
http://www.gtarcade.com