The most refreshing festival of the year is upon us! As people from all over the world gather in Munich, Germany to enjoy music, parades, and of course beer, League of Angels II has something planned for players around the world as well. To coincide with Oktoberfest, the popular browser MMORPG is kicking off its own Brewfest event all weekend long!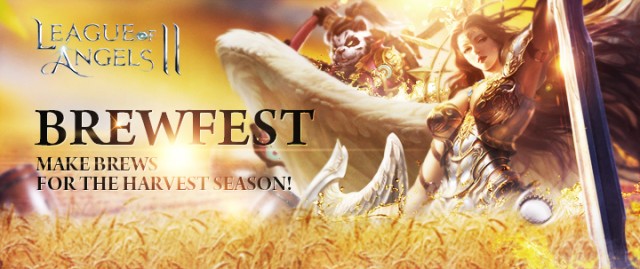 League of Angel II's Brewfest runs from Sept. 17th to the 19th. During this festival event, players can craft delicious beer and exchange them for a variety of rare items and resources. Unleash your inner brewer and win rich rewards including the new Soul Arms!
Event Time: Sept. 17 - Sept. 19
Requirement: Level 40 and above
Access: Click "Brewfest" icon at the top of screen to access
Brief Guide:
Making Brew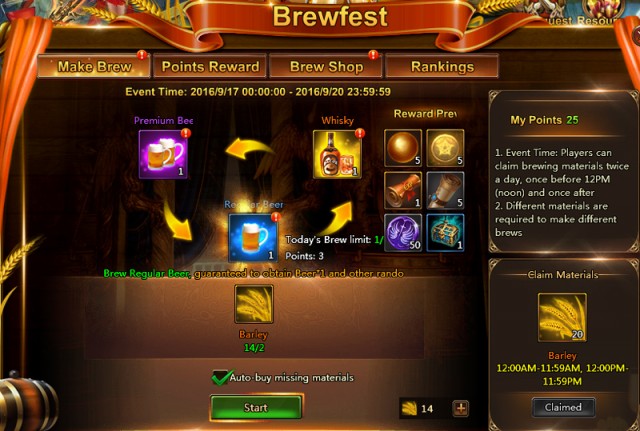 There are 3 types of brewing available to players: Regular Beer, Premium Beer, and Whisky. Click the icon of the brew you want to make, then click "start". Players are able to win random rewards by making brews!
·Making brew will require special materials:
Regular Beer: Barley×2
Premium Beer: Barley×2, Diamond×70
Whisky: Barley×2, Topaz×70
Players can claim brewing materials twice a day, once before 12PM (noon) and once after. Players can also earn Barley in Events by completing certain quests.
Brew Shop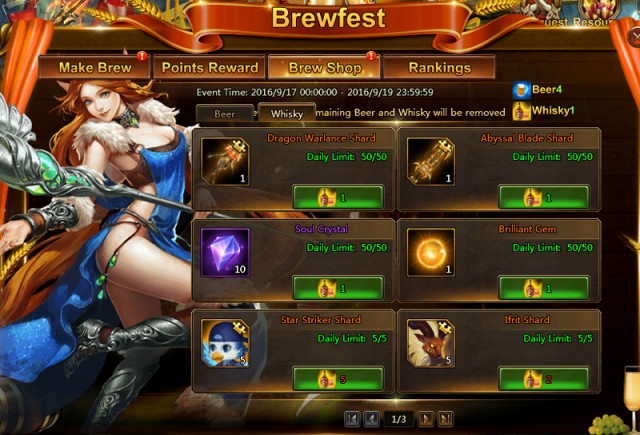 The brews you make can be exchanged in the Brew Shop for a variety of items.
·Each type of brewing will yield:
Regular Beer: Beer×1
Premium Beer: Beer×3
Whisky: Whisky×1
Points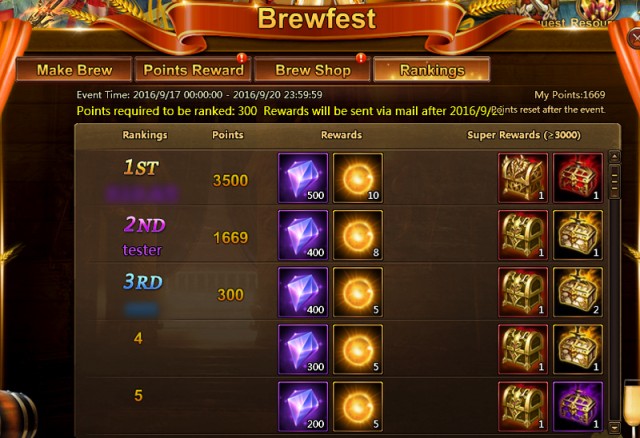 Each brew you make will also earn points, as follows:
Regular Beer: 3 points
Premium Beer: 10 points
Whisky: 12 points
Players can claim point rewards for reaching corresponding amount of points.
Don't miss the most refreshing time of year in League of Angels II! Participate in Brewfest, become a master beer maker, and earn lots of amazing rewards. Play League of Angels II absolutely free and join one of the fastest growing MMORPG's in the world!
Official Site: http://loa2.gtarcade.com
Forum: http://community.gtarcade.com/forum.php?gid=3014
Facebook Fan Page: https://www.facebook.com/LeagueOfAngels2
GTArcade Game Platform: http://www.gtarcade.com