Over 500 years ago, Christopher Columbus and his fleet sailed across the Atlantic and landed in the Carribeans, becoming one of the first Europeans to discover the Americas. Since then, the Americas has became a critical part of the World Map. In celebration of Columbus Day this year, League of Angels II has prepared dazzling events to celebrate the historic day!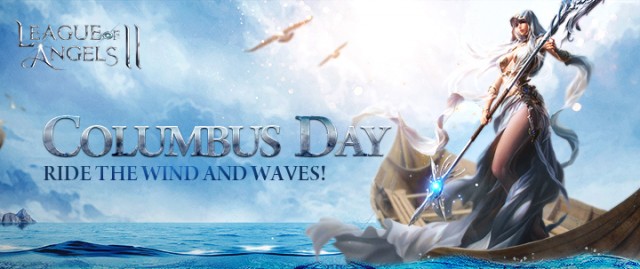 Brave the open seas and set out for adventure, but don't forget your Nautical Charts! On

Oct. 12th and Oct. 13th

, Warriors can find Nautical Charts when fighting in

Elite Dungeon

! In addition, finishing specific quests will also reward charts. Fight hard to collect as many as you can!
How much priceless treasures are there buried in the endless seas? The answer lies in the Mystic Nautical Charts! Warriors can get Mystic Nautical Charts through Recharge activities, spending Topaz, or buying Treasure with Topaz.
With the help of the Nautical Charts, warriors can find abundant treasures from Angels! Nautical Charts can be redeemed for all kinds of items and resources, while Mystic Nautical Charts can lead to even more rare rewards like

Duality Runes and Hero Skins

! Plus, the word on the street is that the Battle Pet system is receiving a big change, so strengthen your pets and prepare for what's to come!
Embrace the spirit of adventure and exploration this Columbus Day with League of Angels II. Be sure to log into League of Angels II on Oct. 12th and Oct. 13th and collect Nautical Charts for rich rewards! Join millions of players around the world and play LoA2 now for free!
Official Site: http://loa2.gtarcade.com
Forum: http://community.gtarcade.com/forum.php?gid=3014
Facebook Fan Page: https://www.facebook.com/LeagueOfAngels2
GTArcade Game Platform: http://www.gtarcade.com