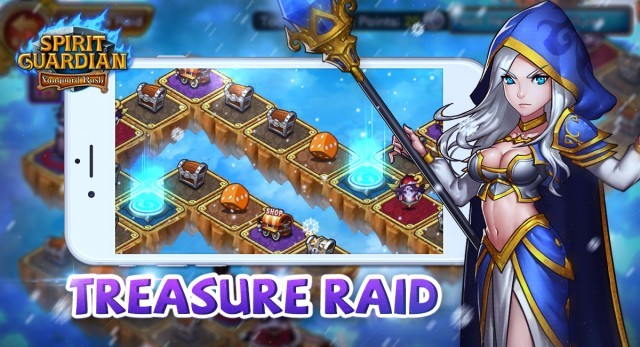 Spirit Guardian is popular for its crisp 3D graphics, strategic battles, and feature-rich content. Endless Dream, Resource Run, World Boss, Element Rush as well as Dream Treasure have brought so much fun for the battlers in Spirit Guardian. The new game mode has brought fans challenge and fun at the same time with its monopoly-style play.
Treasure Raider Description:
1)Unlocked at level 42, explore mysterious lands to uncover a large amount of treasures!
2)Roll dice to determine your movements on the map. You will explore the grids you land on, which can be anything from treasures chests to bosses to battle!
3)Players get free attempts to explore each day, but can also purchase more attempts. There are a limit to how much you can explore per day. Attempts will restore daily at 3AM server time.
4) Each Grid has a special representation:
Wooden Chest
: Explore a Grid with a Wooden Chest to get various upgrade resources;
Iron Chest
: Explore a Grid with an Iron Chest to get very valuable resources;
Mystic Shop
: Finding the Mystery Merchant Grid will encounter a Mystery Merchant selling various upgrade resources;
Luck Dice
: Reaching a Lucky Dice Grid. Will grant you 1 lucky Dice;
Portal Announcement
: Portal malfunction. Will send you to any point within 6 grids towards or back;
Tyrant
: The destroyer during the journey of Treasure Raider, defeating the Tyrant can get a large amount of exploration scores, of course, you can dodge it.
Lucky Wheel
: Spin the Lucky Wheel, you can get rewards like Double Explore and Double Point Card;
Dream Chest
: Ultimate Treasure of this Treasure Raider, arriving at the Dream Chest can get a large amount of rewards and get to the next chapter of exploration;
There are Endless treasures awaiting you to discover in the new Treasure Raider! Become a master explorer and unlock all the mysteries of this new mode!
Download now:
Android: https://goo.gl/uVksdY
Additional Information:
Try out Spirit Guardian-Vanguard Rush for yourself by visiting the following link:
For regular updates, be sure to follow Spirit GuardianVanguard Rush on
Facebook at: https://www.facebook.com/SpiritGuardianVanguardRush
Forum at: http://community.gtarcade.com/group/2105