Another wave of Awakened Heroes is coming! This time Blue Witch, Valkyrie, Shadowraith, and Alyssia have gained the power to awaken. Here we'd like to introduce their awakening skills respectively: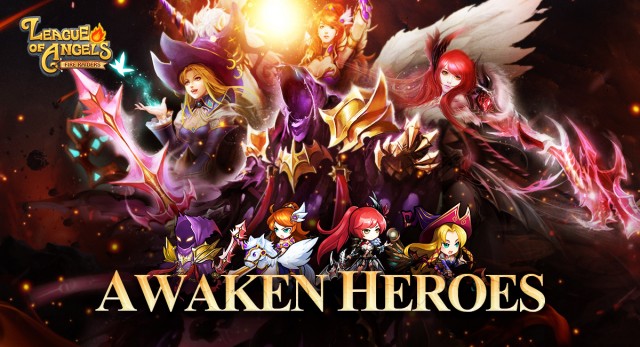 Blue Witch
Master Witch: A mastery of witchcraft increases max HP and number of enemies Polymorphed. Increase max HP by 5000 and targets Polymorphed by 1.
Valkyrie
Horn of Valhalla: At start of battle, blow the Horn of Valhalla to increase team's Damage Reduction and Defense. Increase DR by 10% and DEF by 500 for 2 turns.
Shadowraith
Dark Embrace: The cold embrace of darkness imbues the frost blade with increased damage and physical attack power. Increase DMG by 20%, and in battle increase PATK by 500.
Alyssia
Blade Aura: Perfection of the sword greatly increases Attack and Hit. Passive: Increase PATK by 750 and HIT by 1000.
Awaken your Heroes now, unleashing their true potential! Follow official Facebook fanpage of League of Angels - Fire Raiders to tell what you think about these new awakened heroes and get the latest news about the Awakening materials for your Heroes.
Download free:
iOS: https://goo.gl/BMOjEp
Android: https://goo.gl/2jonKR
Amazon: http://goo.gl/SW4KsE
Additional Information:
Try League of Angels - Fire Raiders absolutely free by visiting the following link: http://angelmobile.gtarcade.com/
For regular updates, be sure to follow League of Angels on Facebook at: https://www.facebook.com/LeagueOfAngelsMobile
Forum: http://community.gtarcade.com/group/2073
Instagram: https://instagram.com/leagueofangels_fireraiders
GTArcade Game Platform: http://www.gtarcade.com