Legacy of Discord - Furious Wings
, GTArcade's newest free to play action RPG game on mobile, is preparing a brand new event for players! Test your fortune in the new
Lucky Wheel
, make it to the top and earn amazing rewards, including the newest
Tier 10 Wrathwing: Immortal!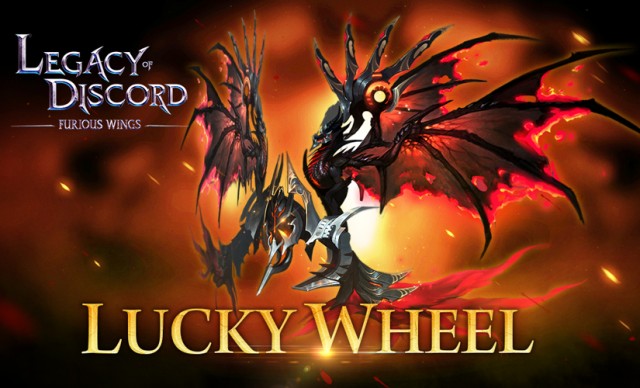 Event Duration: Oct 19 - Oct 22 (SERVER TIME)
Lucky Wheel will offer a selection of rare items that players have a chance of obtaining. Rules of Lucky Wheel:
1.
Spinning the Wheel will cost 100 Diamonds. Each player can spin 20 times each day at most.
2.
Spinning x10 the Wheel will have a 20% discount (800 Diamonds);
3.
Points: Each spin will earn 100 points. These points can be exchanged for valuable Evolution and Upgrade materials, Equipment fragments, and Wrathwing fragments in the Lucky Wheel Shop. Points will be cleared once the event ends, so don't forget to spend them;
4.
Players can earn special Vouchers to spin the Wheel without Diamonds. Unused vouchers will be kept for the next Wheel event!
May fortune smile upon you, brave warriors! Try your hand at Lucky Wheel for some fantastic rewards. Play
Legacy of Discord - Furious Wings
today and experience the best action RPG on mobile!
Additional Information:
Try out Legacy of Discord – Furious Wings by visiting the following link:
http://lod.gtarcade.com/
For the latest news and updates, follow Legacy of Discord – Furious Wings at
https://www.facebook.com/LegacyOfDiscordFW
and check out the forums at:
http://community.gtarcade.com/forum.php?gid=3098