Another wave of Awakened Heroes is coming! This time Demon hunter, Lumia, Neither Knight and Guardian have gained the power to awaken. Here we'd like to introduce their awakening skills respectively: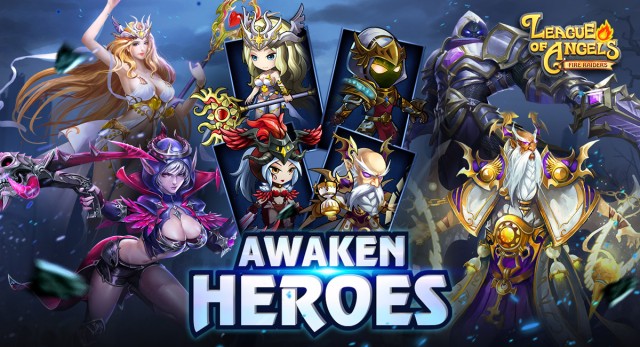 Demon hunter
Evilbane: Increase Hit and can attack through shield effects on enemy targets. Increase Hit by 1000, ignore shields 1 time.
Lumia
Divine Light: Inherits the divine light to greatly increase HP, Attack and Defense. Increase HP by 5000, Attack by 1000, and Defense by 1000.
Neither Knight
Righteousness: At start of battle gain immunity to initial attacks and increased max HP. Resist 2 Attacks, increase max HP by 10%.
Guardian
Ancient Guardian: Release an inner power to increase Defense of the team and gain Rage. At start of battle increase Defense of team by 10% and increase own Rage by 100.
Awaken your Heroes now, unleashing their true potential! Follow official Facebook fanpage to tell us what you think about these new awakened heroes and get the latest news about the Awakening materials for your Heroes.
Download free:
iOS:
https://goo.gl/BMOjEp
Android:
https://goo.gl/2jonKR
Amazon:
http://goo.gl/SW4KsE
Additional Information:
Try League of Angels - Fire Raiders absolutely free by visiting the following link:
http://angelmobile.gtarcade.com/
For regular updates, be sure to follow League of Angels on Facebook at:
https://www.facebook.com/LeagueOfAngelsMobile
Forum:
http://community.gtarcade.com/group/2073
Instagram:
https://instagram.com/leagueofangels_fireraiders
GTArcade Game Platform:
http://www.gtarcade.com