League of Angels - Fire Raiders'
new update has just been released and it brings new Heroes, new Angels, and more improvements to the game! The update is available from
Google Play
,
the App Store
and
Amazon
. Download now and experience brand new content for the best free to play strategy RPG on mobile!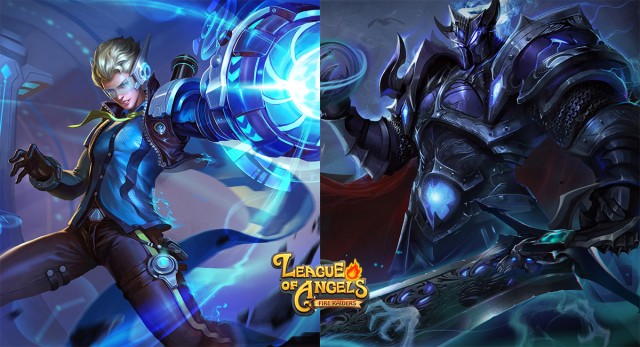 New Heroes: Time Tracer and Death Tyrant
Time Tracer
is a bounty hunter that freely travels through time and space. He comes from a futuristic world and relies on hi-tech weaponry to catch his bounties. It is said that these advanced weapons can greatly boost his abilities and cause great destruction to his enemies.
Death Tyrant
is the Lord of the Realm of Death. Originally an ally of the Demon Lord, he soon grew to despise the Demon Lord and his reign. He decided to temporarily ally with the League of Angels and seized the far western lands of Elysium from the Headless Horseman. This intimidating frontline warrior fights with special abilities that drain Rage and reflect damage.
Check out our new Heroes and see how they can fit in your formation and win you the advantage on the battlefield!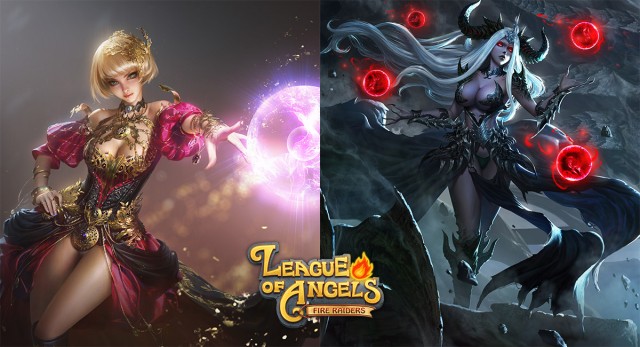 New Angels: Dora and Pamela
Dora
was the princess of the Angel kingdom of Jewelia, which was destroyed by the Demon Lord. At the age of eighteen, she decided to join League of Angels to get her revenge. Because of her royal bloodline, she possesses an overwhelming amount of power even at a young age. Now she has come to strengthen her heroes to unprecedented heights.
Pamela
was once the closest advisor to the Demon Lord, but her controlling demeanor eventually earned his disfavor. To get rid of her, the Demon Lord sent Pamela on a task into a distant cave that was ridden with traps. She stumbled upon one and was cursed into a long slumber. Now that she has finally awakened, she only has one thing on her mind: revenge. Pamela uses the power of Darkness to fight evil with evil!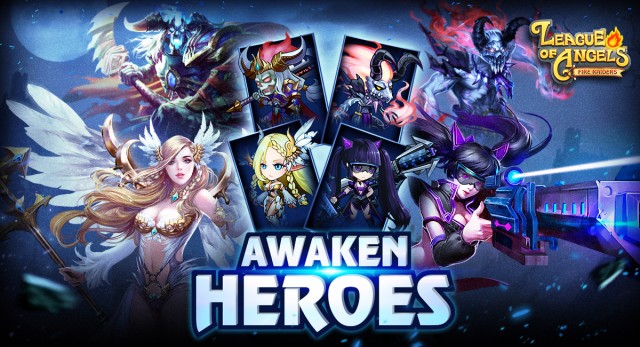 New Awakened Heroes
Another wave of Awakened Heroes is here! This time Holy Keeper, King o'Bones, Soul Slinger and Aria Lockon have found the power to awaken! Awakened Heroes get an additional combat skill, bonus stats, and most importantly, an awesome new appearance!
Other Additions and Optimizations
1. Increased League Level cap to 105
2. New Adventure Chapter 18 - Frozen Tundra
3. Increased max Hero Quality to Legendary+3
4. New Awakened Heroes: Holy Keeper, King O'Bones, Soul Slinger, Aria Lockon
5. New Astral Training: Libra, Scorpion, Sagittarius, Capricornus, Aquarius, Pisces
6. New Divinite Quality: Mythic
7. Increase max Rune level to 80
8. Increase max Epic Relic level to 90 and max Legendary Relic level to 100
9. Increased max Hero Boost Level to +12
10. Increased max Angel Advance level to +12
11. Increase max Emblem level to 14
Download League of Angels – Fire Raiders
now from Google Play, the App Store or Amazon. Log in and check out all the amazing new content! Visit the official Facebook fanpage, website, and forums for the latest news and events. Play League of Angels - Fire Raiders now and experience one of the best free to play strategy RPG's on mobile!
Additional Information:
Play League of Angels - Fire Raiders absolutely free by visiting the following link:
http://angelmobile.gtarcade.com/
For regular updates, be sure to follow Fire Raiders on Facebook at:
https://www.facebook.com/LeagueOfAngelsMobile
About GTArcade:
GTArcade is a leading developer and publisher of free online games. With its guiding principle of "sharing simple joy," GTArcade has created award-winning MMORPG and strategy games for browser and mobile platforms around the world. Visit
www.GTArcade.com
today and play all our games for free!