After a long wait, the new Angel Pamela has finally landed in Elysium! Although she was once the closest advisor to the Demon Lord, old grudges have pushed her to side with the League of Angels. Now revenge is the only thing on her mind. Want to know what this new Angel is capable of?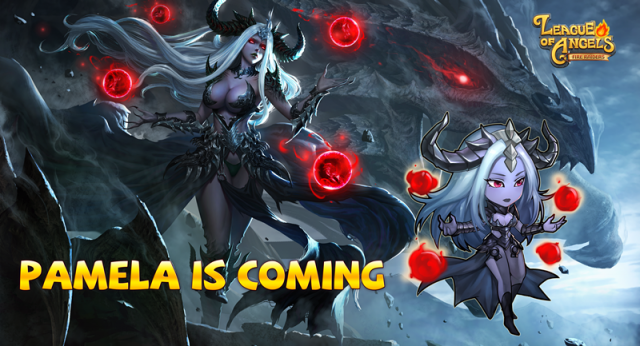 Skill A:
With the power of Darkness, deal damage and inflict Burn against the 3 enemies with the highest ATK, while reducing their ATK by 20% for 2 rounds.
Skill B:
Draw the blood of your enemies into an orb and launch it at the enemy with the lowest HP percentage to deal damage, while increasing the Crit of the entire team by 100% for 1 round.
Pamela is a master of dark magic and possesses a special spell that brings out the full potential of your heroes. Her second skill increases the critical rate of all heroes by 100% for 1 round, which means your heroes will definitely deal critical attacks after Pamela uses this spell! When teamed up with high ATK heroes, such as Aria Lockon, Crimson Rose, Shadow Stalker and Blade Spiral, Pamela can boost their damage to astronomical levels. She also knows how exploit powerful enemies to reduce their ATK, which makes her an excellent debuffer in Boss battles.
Want to be the first to add Pamela to your team?
Pamela will make her debut in

Card Master

this Sunday (2016/11/20-2016/11/22). The vengeful vixen will be more than happy to join your team and lay waste to the demon armies!
Additional Information:
Play League of Angels - Fire Raiders absolutely free by visiting the following link:
http://angelmobile.gtarcade.com/
For regular updates, be sure to follow Fire Raiders on Facebook at:
https://www.facebook.com/LeagueOfAngelsMobile
About GTArcade:
GTArcade is a leading developer and publisher of free online games. With its guiding principle of "sharing simple joy," GTArcade has created award-winning MMORPG and strategy games for browser and mobile platforms around the world. Visit
www.GTArcade.com
today and play all our games for free!