Through many hardships, Dora, the princess of the destroyed kingdom of Jewelia, has made her way to League of Angels. Her kingdom collapsed in the wake of the Demon Lord shortly before her coming-of-age. Once an Angel of high nobility, now she is a princess without a kingdom to rule. She seeks power to get her revenge, a power greater than she can achieve on her own. Will you give her your helping hand?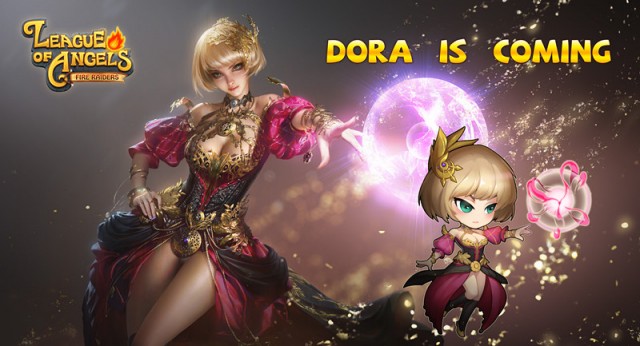 Skill A
: Dora increases the max HP of the 2 teammates with the lowest HP percentage by 100%, and increase their Defense, lasts 3 rounds.
Skill B
: Using the lure of desire, Dora damages 2 random targets and stuns them for 3 rounds.
Dora's royal lineage has blessed her with an overwhelming amount of power at a very young age. Her powerful control magic is a trait inherited from her ancestors and enables her to stun 2 random targets in battle for 3 rounds. If Dora is properly developed, it is even possible to stun your enemies for an entire battle! Dora is at her full potential if she is teamed up with a healer, as her first skill can give a huge boost to the HP cap of her allies.
Do you want to recruit Dora to your league?
Dora will make her first appearance in Wheel of Fortune this Friday to Saturday (2016/11/25 - 2016/11/26).
Additional Information:
Play League of Angels - Fire Raiders absolutely free by visiting the following link:
http://angelmobile.gtarcade.com/
For regular updates, be sure to follow Fire Raiders on Facebook at:
https://www.facebook.com/LeagueOfAngelsMobile
About GTArcade:
GTArcade is a leading developer and publisher of free online games. With its guiding principle of "sharing simple joy," GTArcade has created award-winning MMORPG and strategy games for browser and mobile platforms around the world. Visit
www.GTArcade.com
today and play all our games for free!