10th April, 2018 – The visually stunning 3D mobile RPG game League of Angels – Paradise Land from the award winning League of Angels series is treating its players with a massive brand new content update starting today.

Brand New Content
A new game mode "Expedition" has been added to bring even more diversity to the gameplay. In Expedition, there are 6 Realms in total, each one has a level requirement before players can access them. Players can complete the challenge of each Realm to unlock the expedition, and then dispatch heroes to explore mysterious realms and earn Resources. Players can also get Hero Shards for the hero they dispatched in Expedition daily at several fixed time.
Starting now players can acquire and use the new Magistone to unlock new quality upgrades for their gear. After Purity rank achieve 6, Warriors can refine Legendary Magistone quality to Mythic, which would not only boost its quality, but also activate and level up the Magistone Skill. Moreover, all the treasure hunters out there will find that a new challenge is waiting for them: The legendary Thunderblade is waiting to be discovered by the bravest of warriors.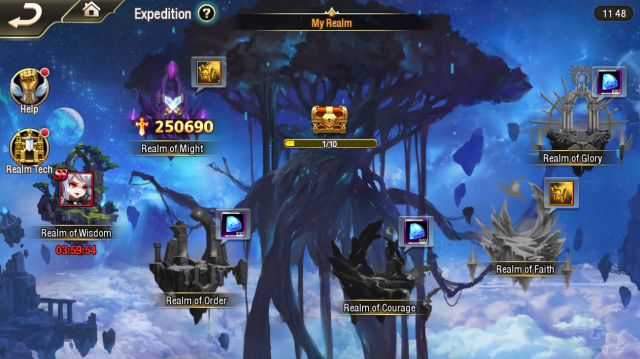 Adjustments to Heroes
Players will also discover that they can now improve their brave band of heroes even further utilizing 14 new Hero Upgrade levels. Some of the heroes have also seen some adjustments:
· Admiral: Starting Rage Skill DMG increased from 75% to 84%, +11 DMG increased to 114%
· Wind Dancer: Ultimate Skill auto target is changed to single target in the rear row of the same column, not affected by Taunt or Protect. DMG decreased from
1000% to 900%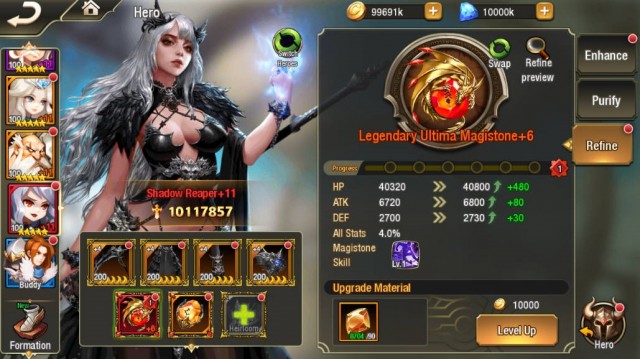 Upgraded Features and General Improvements
On top of all the new content and tweaks many additional adjustments and improvements have been made to increase the quality of life and enhance the gameplay experience for League of Angels – Paradise Land players:
· From now on, the requirements to unlock the Equipment Refining Stone in the Labyrinth have been lowered, to allow for a smoother game experience.
· The procedure to challenge the Guild Dungeon has been optimized
· Cybercore and Light Envoy added to Mystery Recruits.
· Adjusted digit size for CRIT display.
· Auto-refresh added to Shop.
· Improved Victory panel letter display.
· Improved Formation Recommendation.
· Improved effects of combat buffs.
· Improved EX-Rage Skill triggers.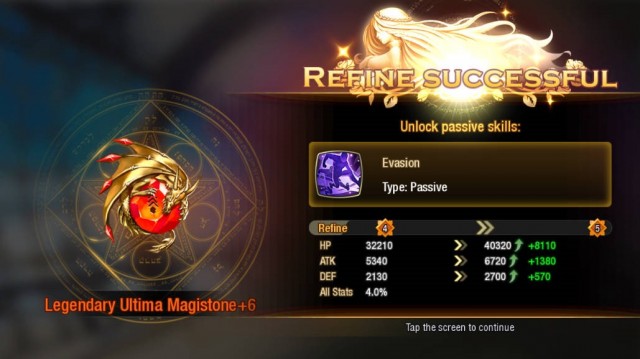 About League of Angels – Paradise Land
League of Angels – Paradise Land is a fantasy turn-based RPG with beautiful graphics and procedurally-generated levels created by a senior art director who worked on GTA5. The game features a new dual-resource combat system that incorporates Roguelike and MOBA elements resulting in a truly unique and innovative RPG in the LoA universe.
About YOOZOO Games (SZ.00217)
YOOZOO Games, formerly Youzu Interactive, is a global entertainment company specializing in game development and distribution. The company is headquartered in Shanghai with offices in London, Berlin, Hong Kong, Singapore, and other major cities. Since its founding in 2009, YOOZOO has launched a multitude of highly successful products and forged a global distribution network.
Official Site: http://www.yoozoo.com
Global Game Portal: https://www.gtarcade.com
League of Angels – Paradise Land: Official Site Facebook Twitter YouTube
Press Contact
Name: Mandy Jin
Email: mjin@yoozoo.com