Watching the World Cup games so far, one might see a few hints as to who could take home the trophy, but no one has been dominant enough to be called the definitive team to win it all. Giants like Argentina, Portugal and Spain are gone, while surprises like Sweden, Croatia and Russia still remain in the final 8. The World Cup voting event on GTarcade desktop is still underway. (what event?)
According to your votes on the event page, Brazil is the favorite to win this World Cup. They will face Belgium next, who had almost lost to Japan but managed to rally in the end and qualify for the quarterfinals.
Event Progress: 140K votes collected
Over 140,000 votes have been cast so far, and they show that Brazil, Belgium and France are your favorites to win the 2018 World Cup. Over 30,000 players have made their predictions and 1.4 million G Points have been collected so far. The first chest (10K G Points) was opened half an hour after our event began, and the second chest (50K G Points) was broken 4 hours later. The progress bar was moving so fast, so the third one and the fourth chests were already opened on the second day and the third day of the event.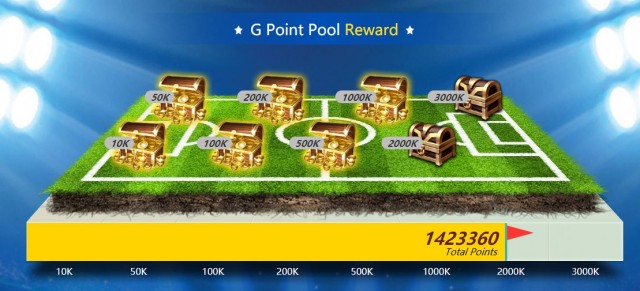 Anyone who participated in the event can claim 6 chests for free at this moment, which can be exchanged for valuable gifts in the Points Store.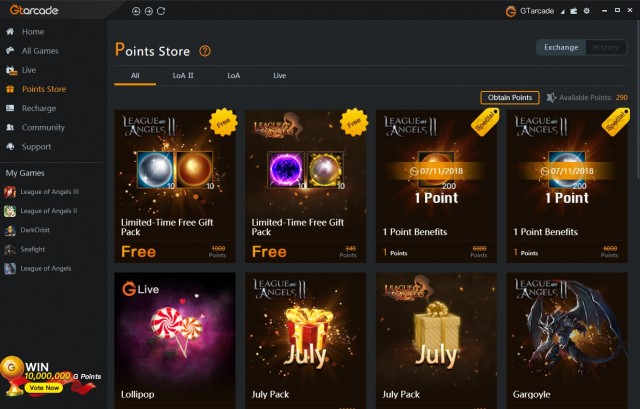 Get your Legendary Gifts
The second redemption codes has been updated today and can be redeemed for Blessed Stone*100, Element Crystal*100, and Gold*1M in LoA, and Fading Diamond*600 and Bloodstone*200 in LoA II, and Recruitment Scroll I*15, EXP Scroll I*10, and Mount Adv. Stone*5 in LoA III.
But that's not the end of it! More redemption codes will be released soon.
Here's a look at what you can get for each game (Redemption codes plus Voting Awards):
LoA:
Stable crystal *250, Lucky Capsule *50, Daric *300,
Blinding Light Flint *15, Skill Book-Frost Strike*3, Odd Fruit *500
Immortal Soul *100, Seraph's Stone*1010, Skill Book-Dark Meditation *3
Grotto Heart*80, Aegis Shard*150, Khaos Core*15
Purgatory Soul*50, Spring of Wisdom*50, Gold*7,000,000,
Odd Fruit x300, Soulstone *200, Magic Mount Soul *500
LoA II:
Lv.6 Rune Chest*1, Grade Essence*110, Dragon Soul*10
Sunstone*105, Amethyst*750, Astral Ingot*300,
Seal Stone*200, Bloodstone*200, Soul Crystal*200,
Scroll of Awakening*200, Fading Diamond*2600, Grade Essence*200
LoA III:
Recruitment Scroll I *60
EXP Scroll I*40
Mount Adv. Stone *25
Recruitment Scroll II*6, EXP Scroll II*19, Gold*4,000,000
Join our World Cup event here:
https://client.gtarcade.com/world-cup.html
Download the GTarcade Desktop (2.6MB) to get free gifts and extra benefits below
:
1. Speed up your gaming process with
Speed+
(
exclusive feature of the GTarcade Desktop
)
2. Exclusive in-game rewards
3 Quick fix option for game issues
3. Save your custom settings
4. Connect with other players in the community
5. Watch live streams
Download GTarcade Desktop to get ahead of others:
https://www.gtarcade.com/en/micro/download